Buying car is still a dream for many people in India. Growing up,  many of us had bedroom posters of our dream cars and dreamt of owning them one day. Many of us managed to buy these while others are still trying out ways to fulfill their dreams. In this article, we talks about one such person who managed to realise his childhood dream of buying a luxury car. Tapesh Kumar is currently working as a pilot with an airline but, he was from a humble middle-class family. He comes from a family that didn't even have a two-wheeler. Tapesh now bought a used  Jaguar XJ L luxury sedan.
The video has been uploaded by Boeing Boy on his youtube channel. Tapesh, as mentioned above is working as a pilot and he has worked hard to get this job. In this video, Tapesh explains how he came from a very humble background. Growing up, his family did not even have a two-wheeler at home. After he completed his studies and managed to get his dream job, he started saving for his dream car and finally bought this used Jaguar XJ L.
Also read: Well-maintained Kia Seltos SUV available for sale
Jaguar XJ L was one of the most luxurious sedans sold in India. The sedan is not available in the market anymore. The one seen in the video is a 5.0 litre petrol V8 engine version. Jaguar XJL is a huge vehicle in terms of dimension and offers a host of features that usually a luxury car in this segment offers. In this video, Tapesh shows the interior and also how the massive V8 engine in the sedan sounds like. The engine is mated to an 8-speed automatic transmission and it generates 385 bhp and 625 Nm of peak torque.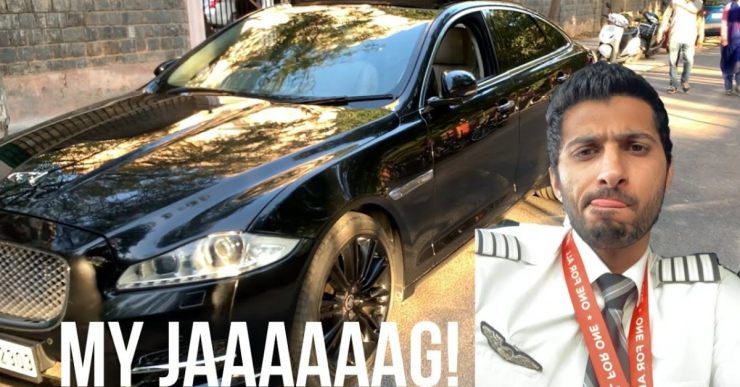 When Jaguar XJ L was available in the market, it was the flagship sedan from the manufacturer and its competition was Mercedes-Benz S-Class, Audi A8 and BMW 7-Series sedan. The car looks extremely good and well-maintained in the video. Tapesh does not mention the amount he spent on buying this car. Buying a used luxury car makes a lot of sense especially if you are not planning to keep the car for a long period of time. There are several used luxury car dealers in different parts of the country. When compared to a brand new luxury car, a used one is available at a lesser price.
In most of the cases, the owners of these cars maintain the car very well, and they also have proper service records. Just like any luxury product, a luxury car also depreciates very fast and that is the reason why these cars are available at interesting prices. A brand new Jaguar XJ L when available in the market was sold for around Rs 1 crore. In order to buy a well-maintained used Jaguar XJ L, you would have to spend around half of its original price. If you get lucky, you won't even have to spent that much amount. While buying a used car, one should always try to get the car inspected from a service centre to ensure there are no issues with the car. These cars are not at all cheap to maintain and if the car has a major issue, then it might be too expensive to repair.
Also read: Tata Nexon Electriv SUV available for sale