Electric vehicles have become very popular among buyers in the market. We have been seeing a positive shift towards electric cars in India. Other than manufacturers like Tata and MG, there are many private garages in places like Punjab that make custom electric vehicles. Most of them are low-speed EVs that do not need a registration number. There are  many people who have bought such EVs and are using it on a daily basis. We often seen reviews of such EVs from the makers only. This time, we have a video where a man shares his experience about his EV that looks like a vintage car.
The video has been uploaded by Pazhamaye Thedi YouTube channel on their YouTube channel. In this video, the owner of this low-speed EV talks about the car that he has been using on a daily basis. The car is owned by Mr. Alex from Kerala's Kollam district. He uses car to commute to work on a daily basis. As petrol prices were on a rise, Alex wanted an electric car to bring down his fuel expenses. He does not prefer a two-wheeler and that is when he came across a low power EV near his place. He spoke to the owners and came to know that it was something that they bought from a builder in Malappuram.
Also read: Modified Royal Enfield Thunderbird 500 motorcycle from Eimor Customs look beautiful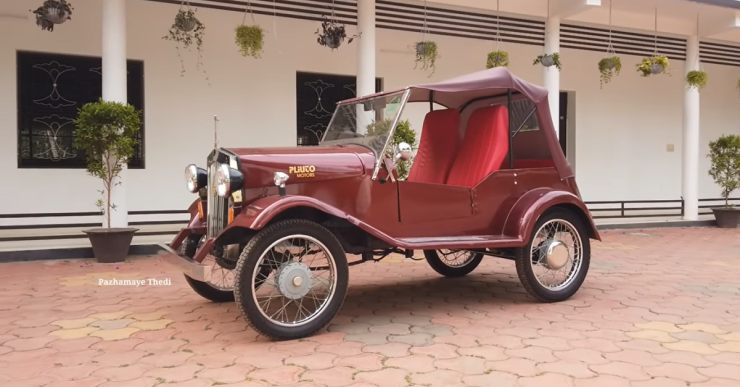 He spoke to them however, he did not like the design of their models and started looking for other options. As he was searching for an EV, he came across Pluto motors from Punjab, who build such low-power EVs. He liked their vintage design and bought the car for himself. The car looks like a vintage car but, it is actually an EV. It has been designed using parts from many other vehicles. For example, the tyres and wheels are from Royal Enfield Bullet and other parts are from tractors. the headlights are from a Royal Enfield motorcycle too.
The car returns around 100 km on a single charge and it has a top-speed of 25 kmph. The running cos of this EV is around Rs 1 per km which is way less than a regular ICE vehicle. The owner installed a handbrake and also gave connection to the tail lamps. He mentions that this is a perfect car for city commutes and he never takes it for long drives. People often come to him asking about the vehicle as it looks like a vintage car. Many of them have even asked about the price of the car which is around Rs 3 lakh. Pluto Motors offered an inverter with the car to charge it. The batteries are placed in the front on the car.
He mentions that the car is not capable of climbing steep sections and cops have stopped him couple of times. After they realise that it is a low-power EV, they let him go. The car does not come with AC and he mentions that 4 people can comfortable travel in this EV without any issue. As of now he has not faced any issues with the car and he can be heard saying in the video that he can get the car repaired at any of the workshop near his place and does not have to ship the car all the way to Punjab.
Also read: BSA Motorcycles unveil Gold Star 650: Will Rival Royal Enfield 650 Twins