If you are looking for a fairly large vehicle to carry an extended family on a road trip, in the price range of Rs. 12 lakh to Rs. 18 lakh, what are your options? We take a look at what's available and narrow it down for you.
Carrying a large family primarily means you would require a spacious vehicle that can accommodate up to seven people and their luggage. That would effectively rule out the sedans in this price segment, as most can carry only four in comfort and five at a pinch. You are left with a choice of either MUVs or SUVs in that price segment – and these include the Mahindra XUV500, Tata Aria, Toyota Innova, Tata Safari Storme, base version of the Ford Endeavour (4×2 manual) and base version of the Mahindra Ssangyong Rexton. The Skoda Yeti is strictly a five-seater and gets left out of this equation.
So within this selection, which are the three most suitable for a large family – providing enough seating comfort, luggage space, features and long-journey capability? Also read: Top 6 sedans with maximum luggage space below Rs. 10 lakh
Toyota Innova
Price range: Rs. 9.4 lakh – Rs. 13.9 lakh
The Toyota Innova is one of the most popular choices here and for good reason.  It has decent seating comfort for seven (especially in the captain seat configuration of 2+2+3) and good enough luggage space with all rows in use. Of course, if there is heavy luggage to be carried a roof rack would definitely be needed. Ride comfort in the Innova is decent. The Innova comes in both petrol and diesel variants, although it's the top-end diesel variants that fall in this price range. The diesel variant is powered by a 2.5 litre diesel engine that puts out 102 bhp of power and 200 Nm of torque. The VX variant that falls in this price range comes with ABS and two airbags, and manual air-conditioning. It isn't peppy to drive, but goes about its business without a fuss.
Tata Aria
Price range: Rs. 9.95 lakh – Rs. 16.6 lakh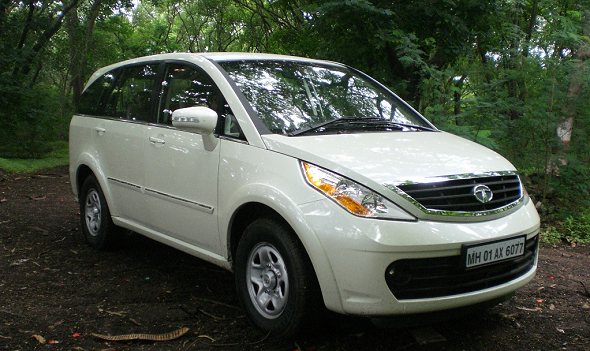 The second choice would be the Tata Aria, although it is not a popular vehicle at all, and strangely so, because it actually ticks all the right boxes for a large family. It is spacious. It has enough space for seven with luggage space. It has plenty of storage compartments, comes with plenty of creature comforts as well such as climate control with AC vents in all rows, and independent rear AC control. The third row in the Aria is spacious enough too, without making it uncomfortable for adults. The Aria comes with a 2.2 litre diesel engine putting out 138 bhp of power and 320 Nm of torque, with a five-speed manual transmission. The top-end 4×4 version comes with cruise control, six airbags, GPS navigation, infotainment system and plenty of other bells and whistles. However, the vehicles bland styling, slightly expensive pricing and poor image in terms of service reputation in the past work against it. Also read: Family MPVs at Auto Expo 2012
Mahindra XUV500
Price range: Rs. 11.7 lakh – Rs. 14.25 lakh
The Mahindra XUV500 is probably the most popular vehicle in this segment. It can carry seven people, but loses out on luggage space. If you need a vehicle to carry seven people, but minus any heavy luggage, it can do the job. Seating space is great in the first and second row (2+3+2), but the third row is a bit cramped and can only be used by children for long trips, as adults may feel claustrophobic with limited knee room and non-openable windows in the last row. The XUV500 has a 2.2 litre diesel engine putting out 140 bhp of power and 330 Nm of torque with a six-speed manual transmission. It has plenty of creature comforts such as climate control, with vents for all rows, cruise control, DVD system (in the W8 variant) etc. However, ride comfort is not that great as the XUV500 tends to get a bit bouncy over bad surfaces, because of a fairly stiff suspension setup. Also see: Hatchbacks for a large family
The Tata Safari Storme has jump seats which are side facing, and not practical enough for a large family. The base Ford Endeavour has enough space alright, but the last row has hardly any underthigh support as the floor is too high. It also is quite bouncy with its stiff leaf spring suspension. The Mahindra Ssangyong Rexton too has a similar problem with the last row of seats, although it has more features than the Endeavour.
Share your thoughts on which would be the ideal vehicle in this segment for a large family.