Updated: 11/04/2012
If you have outgrown small cars and are on the lookout for a small petrol sedan that offers good mileage, these are the compact sedans for you!
We've put together a list of the most fuel efficient compact sedans in the country for you! In many ways, the Maruti Swift Dzire's success proved that Indians are obsessed with compact sedans. Of course, it's another matter that a car with a proper boot doesn't come cheap.
So what choices does the Indian auto market present for a buyer looking for an affordable, compact, entry-level sedan? CarToq takes a look at the top 5 entry-level compact sedans, which are also among the most fuel efficient.
Maruti Suzuki Dzire Petrol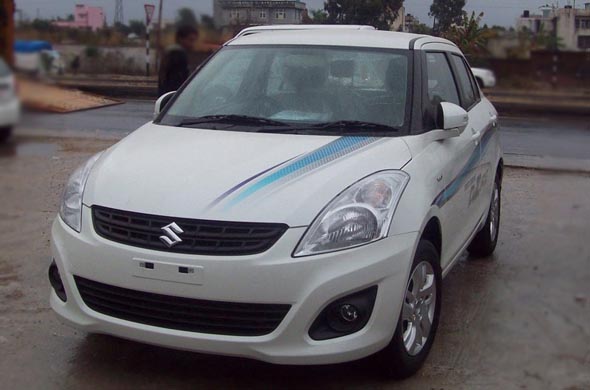 Claimed mileage: 19.1 kmpl
Price: Rs. 4.88 lakh – 6.63 lakh
The Maruti Swift Dzire is the largest selling sedan in the market and it's easy to see why. This Swift with a boot delivers a phenomenal 19.1 kmpl, thanks to the refined K-Series engine which delivers on fuel efficiency without compromising on performance. Also see our Maruti Suzuki Dzire video review.
The 1.2-litre petrol engine makes 87 bhp of power and a torque of 114 Nm. At Rs 4, 88,065, the base Dzire LXI is among the cheapest entry-level sedans in the country. The new Dzire will be a practical notchback for city commutes for its compact dimensions will allow parking in tight spaces.
USP: Low cost of ownership, reliable engine
Toyota Etios Petrol
Claimed mileage: 17.6 kmpl
Price: Rs. 5.14 lakh – 7.18 lakh
At Rs 5.14 lakh (ex-showroom, Delhi), the Etios is priced close to the Dzire.
The Etios has a much larger engine (1.5-litre, 90 bhp) and better torque (132 Nm) than the Dzire. It's also very spacious and has oodles of leg space the Toyota Etios can seat five easily. It's fantastic to drive in the city and doesn't require too many gear shifts. You may also be interested in our Toyota Etios video review.
Toyota claims a mileage of 17.6 kmpl, which is a bit farfetched, so expect fuel efficiency to be around 14.5 kmpl. But the Etios commands an agonizingly long waiting period of around seven months.
USP: Cheapest entry-level sedan, powerful engine
Ford Fiesta Petrol
Claimed mileage: 16.97 kmpl
Price: Rs. 7.34 lakh – 9.86 lakh
The Fiesta is powered by a 1.5-litre petrol motor that puts out 108 bhp of power and 140 Nm of torque. The engine is mated to a dual clutch 6-speed gearbox which is technically advanced than regular automatic transmission offered in its rivals. The Fiesta petrol manual variant also has a claimed mileage of 16.86 kmpl making it, one of the most fuel efficient petrol sedans in its segment.
The Fiesta has electronic gizmos such as the voice-activated control system allowing the driver to change climate controls settings, make and receive calls and control the music just by using his voice. For more insight see our Ford Fiesta Automatic video review.
USP: fuel efficient automatic, silent cabin
Nissan Sunny
Claimed mileage: 16.95 kmpl
Price: Rs. 5.93 lakh – 7.86 lakh
The Sunny was launched silently and no sooner, it has now become one of the top selling entry-level sedans. The Sunny petrol is powered by 1.5-litre motor that puts out 98 bhp of power and 134 Nm of torque and returns 16.95 kmpl. This engine pulls effortlessly in all gears but the gear ratios have been set in the interest of fuel economy. Find out more by seeing our Nissan Sunny video review.
The key proposition for the Nissan Sunny is space.  The rear seat comfort is the best in its segment and plenty of legroom is on offer for rear passengers.
USP: Spacious, comfortable
Honda City
Claimed mileage: 16.70 kmpl
Price: Rs. 7.20 lakh – 10.43 lakh
The City is the leader among petrol sedans in the Rs. 7 lakh – 10 lakh price range. The City is powered by the 1.5-litre i-VTEC motor which is known for its free revving nature and performance as well as high fuel efficiency.  Also see: Honda City Automatic video review
Honda claims a mileage of 16.70 kmpl and in real driving conditions you can expect the mileage to be in the range of 13 – 15 kmpl, which is commendable for a big car like the City.
USP: Fuel efficient engine, Reliability