MrBeast, a famous YouTuber whose real name is Jimmy Donaldson, recently gave a waitress a new car as a tip. He made a video of the moment and posted it on TikTok. But some people were upset, saying that he was only doing it to advertise his new chocolate business, Feastables.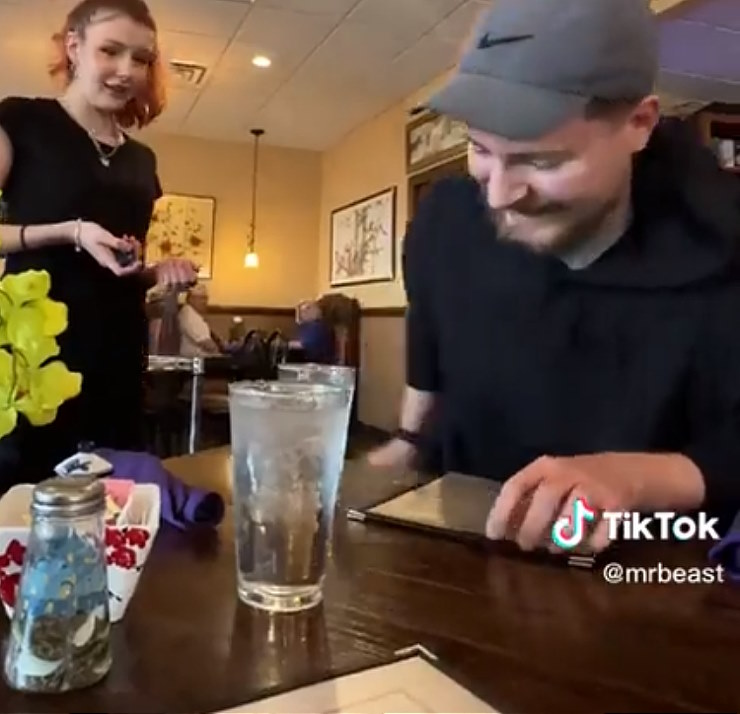 In a quick 42-second TikTok video, we see MrBeast (also known as Jimmy Donaldson) chatting with a young waitress named Amy at a plain restaurant. A cameraman captures their conversation as Donaldson asks Amy about the largest tip she's ever gotten. She responds with a modest $50. Suddenly, Donaldson surprises her by handing over the keys to a black Toyota Corolla parked outside, telling her it's a brand new car with a sticker for his chocolate brand, Feastables, on the side and his YouTube logo on the hood.
Also read: 10 DC Design cars & how they look in the REAL world: Maruti Swift to Mahindra XUV500
I love MrBeast but he gave her a car with an ad on it ahahahahahhaahahahshsh pic.twitter.com/slcifjgO9i

— The BKH 💫Create More (@thebkh) March 27, 2023
Initially, the server is in disbelief and questions whether Donaldson is being serious. But when he takes her outside to show her the car, she becomes emotional, putting her hand over her face and looking like she's about to cry. Donaldson is taken aback by her reaction and says, "Oh wow, I wasn't expecting you to cry."
Amy then reveals that she was tardy to work that day because her Uber ride was slow, and she seems to be grateful for the gift. As the video wraps up, Donaldson tells her to enjoy the car.
Even though the waitress was really happy, some people didn't like it. They said that the car's value was lower because of the logos on it, and that the waitress can't drive. The car is a Toyota Corolla hatchback, and costs around USD 21,000 in US. We do not know if the waitress is required by MrBeast to keep the logo on the car, or whether she is allowed to remove it. And there is no clarity on whether she just gets to keep the car, or whether she becomes the actual legal owner of the car. In the absence of no such information and without hearing directly from Amy, we should not be jumping to conclusions.
MrBeast is known for giving away a lot of money and doing good things for people. He has given away an island, bought all the cars in a dealership, and adopted all the dogs at a shelter. He is also the most popular YouTuber in the world, with 139 million subscribers.
Sometimes, people criticize MrBeast for what he does. In January, he was criticized for paying for 1,000 people to have surgery to restore their eyesight. He said that it wasn't fair to expect influencers to solve all of society's problems.
MrBeast also has a lot of followers on TikTok, where he posts short videos of his big giveaways. He recently went viral for paying someone $300 to go to Paris and bring him back a baguette. He also recently uploaded a video of him playing Rock, Paper Scissors with Dwayne 'The Rock' Johnson, whose car collection we have featured on CarToq.
In the comments of the TikTok video of the waitress, MrBeast said that he would give away more cars if people bought more of his chocolate. The video got 50 million views and was his most popular post in March.
MrBeast has a fleet of cars including a Tesla Model 3, a Nissan Armada, a BMW 3 series, a Lamborghini Huracan Spyder and a Lamborghini Gallardo. Recently, he had asked the billionaire owner of Twitter Elon Musk if he could be the next CEO of Twitter, to which Musk responded that "It's not out of the question." However, the question was not perhaps posed seriously and the response too, and we have not heard anything more about that after the exchange between the two.
MrBeast visited India in 2022, and documented his experiences online. He was followed around by fans everywhere, and many asked him for a selfie with him, which he found mystifying. MrBeast has his second biggest fan following in India after United States.
Also read: Upcoming 2022 Maruti Suzuki Vitara Brezza rendered