Full list of Toyota vehicles in India, with features and specs
Toyota may be a maker of people's cars worldwide, but in India the company enjoys a premium image. This is primarily because of the trust in the Toyota brand and its reputation for quality.
Toyota started operations in India in a tie up with Kirloskar and launched the Qualis MPV in January 2000. It was a runaway hit, but it was withdrawn in 2005 to make way for the Innova.
Toyota's portfolio now consists of seven vehicles – the Innova, Corolla Altis, Camry, Landcruiser Prado, Fortuner, Landcruiser 200 and the hybrid Prius. Toyota is lining up another launch in December, of the Etios, which will be a mid-size sedan followed by the hatchback variant. Here is all you wanted to know about the Toyota Etios. The launch is on Dec 1, by the way.
Here's a look at the various models available from Toyota in India:
Corolla Altis
Toyota launched the tenth generation Corolla, the Altis, in India in September 2008. The Corolla's origins go back some 40 years. The new model is the 10th generation of a car that has outsold all others worldwide. According to Toyota, more than 30 million have been produced. Corollas have relied on the model's strong reputation, solid resale value, good build quality and heritage. Related: Toyota Corolla Altis launched
The looks have changed. The new avatar has design cues that look more in line with its big brother the Camry, rather than an evolution of the old Corolla. At 4,540 mm long, 1,760 mm wide, and 1,470 mm high, the Altis is 10 mm longer, 60 mm wider and 20 mm lower than the older model. Read about the Corolla Altis petrol
The extra width has improved the cabin space, and although slightly lower, the Altis is still 50 mm taller than competitor Honda Civic. The new sedan looks elegant and sophisticated with traditional and pervasive style. The lower and wider body offers a more stable and aerodynamic ride. Smooth flowing lines from the front to the rear accentuate a sporty design and feel.
Features available on the Corolla Altis include power retractable outside rear view mirrors; a spacious trunk; 60/40 split rear folding seats to allow maximum optimization of storage space; In-dash 6-disc CD player with MP3/AM/FM/Aux-in capabilities and six speakers; automatic HID headlamps with retractable washers; and air conditioner with heater.
Some of the standard safety features on the Altis include front ventilated disc brakes and rear solid disc brakes with an anti-lock braking system (ABS); electronic brake-force distribution (EBD); supplemental restraint system (SRS) air bags for driver and passengers; keyless entry with alarm system; and front fog lamps.
Toyota claims an overall fuel economy of 14.5 kmpl for the petrol and 21.43 kmpl for the diesel. Read our Corolla Altis diesel road test
Engine: 1.8 litre petrol / 1.4 litre diesel
Power: 132 PS @ 6,000 rpm / 88.4 PS @ 3800 rpm
Torque: 205 Nm @ 1,800-2,800 rpm
Price range: Rs 10,12,300 – Rs 13,82,000 (ex-showroom Delhi)
Toyota Camry
Toyota Camry is another bestselling car worldwide from the manufacturer. Camry is the anglicized version of the Japanese term 'Kanmuri' which means crown, and Camry has proven it is indeed the crowning glory for Toyota. The car was first launched in 2002, and the new sixth generation 2006 edition has had quite a few changes, inside and out.
The Camry exudes vitality, with its dramatic stance and eye-catching looks. Its exteriors reflect an impressive combination of athletic styling and modern design. The design facelift has added an enlarged lower air intake, a new chrome grille and larger projector headlamps for an aggressive look. The tail lamps too are modern and give a bulging stance to the rear.
At the heart of Toyota's big fish lies a powerful 2.4L VVT-i petrol engine that churns out 165bhp @ 6,000 rpm and a maximum torque of 224 Nm @ 4,000 rpm. The sole engine option can be paired with either the 5-speed manual transmission or the 5-speed automatic transmission with electronically controlled transmission.
For Toyota, the Camry continues to redefine the standards for driving comfort and performance. Camry can achieve a top speed of 200 kmph, thanks to its improved performance dynamics. To stop it from such velocities, the large diameter disc brakes, vehicle stability assist, antilock braking system with EBD and brake assist help reduce the braking distances and enhances safety.
Fuel economy is not a highlight of this car however. In city driving conditions, the big sedan can only offer 9 kmpl and 16 kmpl on the highway. Overall, it is a car that lets you arrive in style. It is comfortable and quite manageable in the city. The ride quality is good and handling sharp. It is a very comfortable and refined machine.
Engine: 2.3 litre petrol
Power: 167 PS @ 6,000 rpm
Torque: 224 Nm @ 4,000 rpm
Price range: Rs 21,58,220 – Rs 23,73,170 (ex-showroom Delhi)
Toyota Innova
The Toyota Innova rolled into the Indian car market in March 2005. When it arrived, the car set new benchmarks in the MPV segment. Since then it is admired and appreciated for its fantastic ride quality, luxurious and versatile interiors, spacious cabin, superior performance, and class-leading safety features.
The exterior of the new Innova is personified by a new bumper, stylish grille, electrical outside rear view mirrors, and a redesigned rear end accentuated with crystal taillights. Stylish alloy wheels on variants also add charm to the car's exterior. The sheer bulk of the MPV also gives it street presence.
It's the interiors of this new Toyota that will surprise you the most. The interiors are walnut finished and the seats feel especially comfortable thanks to the good lumbar and under thigh support. A very thoughtful feature is the adjustable seat at the back, which can move back and forth. This feature can maximize rear seat space, especially if you are regularly driven around. Pockets integrated into the seats form perfect recesses for the seat belts and their clips to be tucked away. The plastics used are of very high quality and will most definitely keep rattles at bay. The stereo is placed high for easy access and readability. 'Innova'tion seems to be the idea behind the entire design and engineering process.
Engine: 2.0 litre petrol / 2.5 litre diesel
Power: 132 PS @ 5,600 rpm / 102 PS @ 3,600 rpm
Torque: 181 Nm @ 4,000 rpm / 200 Nm @ 1,400-3400 rpm
Price range: Rs 8,10,464  – Rs 12,24,758 (ex-showroom Delhi)
Toyota Fortuner
It surely took time for the Fortuner to stamp its huge footprint in the Indian SUV market, but when it did, it surely created ripples and the wait was worth it. The 3-litre turbocharged engine, producing 170 bhp is adequately powerful and the interior is plush and familiar as a lot of the parts have been borrowed from the Innova (both vehicles are built on Toyota's IMV platform). The Fortuner obviously sits higher than the Innova and also has permanent four-wheel drive to take it beyond the tarmac.
The looks absolutely delight. This, in our eyes, is what a true SUV should look and feel like. It commands huge street presence, what with those high-up headlights, flared wheel arches, and buffed up panels at just the right places. Its look alone makes it a winner. Related: Toyota Fortuner launched in India
Passenger safety features include airbags and ABS. It also comes equipped with an integrated stereo, rear AC vents and parking sensors. And as is expected from Toyota, despite its problems in the United States, the build quality and fit and finish are top-notch. Though price is a little stiff at the Rs. 20 lakh range, in its short stay, it has already built up a large fan following, especially among politicians. The Fortuner can reach 100kmph in just 9.61 seconds and can touch a top speed of 176 kmph.
Engine: 3.0 litre diesel
Power: 172 PS @ 3,600 rpm
Torque: 343 Nm @ 1,400-3,400 rpm
Price range: Rs 19,64,320 – Rs 20,45,000 (ex-showroom Delhi)
Toyota Land Cruiser Prado / LC 200
The big brawny Land Cruiser is an earth-shattering monster. Toyota's revered Land Cruiser brand of off-road vehicles has been religiously serving for over five decades across various markets. What makes the Land Cruiser series so successful the world over is its supremely engineered mechanicals and its ability to conquer harsh terrain with conviction and of course, Toyota's legendary reliability.
The Land Cruiser Prado is more than an able competitor to the Mitsubishi Montero and BMW X5, with loads of hi-tech devices and safety features.
The SUV's all time four-wheel drive (4WD) offers power packed performance on all road conditions with decent power and torque to seize arduous surfaces and take on inclines.
Aiding its off-road capabilities furthermore is the Land Cruiser Prado's fantastic ground clearance along with a host of technologies like Ride Height Control, Toyota Electronic Modulated Suspension system and Toyota's advanced Kinetic Dynamic Suspension System (KDSS). This allows it to actually go over rocks and obstacles without any hiccups, so the driver can purely focus on having fun in the wild. The comfort of a 5-speed automatic transmission with sequential shift adds to the overall experience and it is lag-free with incredibly smooth gearshifts.
The Land Cruiser 200's multi-terrain ABS continually monitors engine revolutions and vehicle speed, instantly adjusting wheel-slippage regardless of surface conditions. The Hill Assist Control further contributes to smooth hill starts making the Land Cruiser suitable for mountainous terrain. Toyota provides 10 airbags with seat position sensors, active traction control, vehicle stability control and clearance and back sonar (to assist in cornering/reversing).
Fuel efficiency is a measly 5 kmpl in city and 7.8 kmpl in highway conditions for the LC 200, but that's to be expected.
Engine: 3.0 litre diesel / 4.5 litre V8 diesel
Power: 127 kW @ 3400 rpm / 210 [email protected] 3600 rpm
Torque: 410 Nm @ 1600-2800 rpm / 650Nm @ 1600-2800 rpm
Price range: Rs 53,28,000 (Prado) – Rs 87,58,000 (LC 200), ex-showroom Delhi
Toyota Prius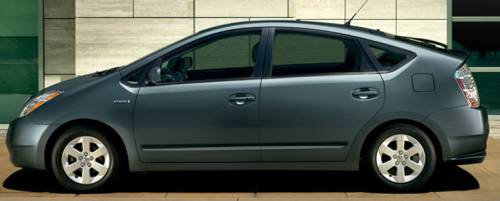 The Prius is a power-split or series-parallel (full) hybrid, sometimes referred to as a combined hybrid, a vehicle that can be propelled by gasoline and/or electric power. The Toyota Prius is powered by a 1.8-litre 2ZR-FXE engine coupled to a 60KW electric motor.
The Prius' 1.8 litre petrol engine delivers 73KW power and 142 Nm torque. The car also has an electric motor delivering a power output of 60KW and 207 Nm torque. The car further has a so-called Hybrid Synergy Drive (HSD) in which both engines are used. As a result, the net system power is 100 KW.
The car can be driven in three modes – all electric, petrol-electric alternating, or both motors together (for maximum power). The Toyota Prius' transmission is an electronically controlled continuously variable one.
The Prius has been designed with the aim of maximizing mileage. As a result, it features one of the best aerodynamic shapes, aimed at reducing wind resistance and hence improving mileage. In the Prius' front end, high importance has been given to aerodynamic shape and good styling. Clear lens head lamps, a bold Toyota emblem, sharp bonnet and wind shield give it a bold look. The sleek styling of the side panels, the door trims and the curvy shape which is extended till the tail lamps make the car aerodynamically adept.
Engine: 1.8 litre petrol, 650 volt electric
Power: 73 kW @ 5,200 rpm, 60 kW (combined 100 kW)
Torque: 142 Nm @ 4,000 rpm, 207 Nm
Price range: Rs 27,08,500 – Rs 28,40,500, ex-showroom Delhi