Making viral videos have become a thing on social media. We see people acting and dressing up differently just for this purpose. They often post videos of moving cars and bikes too to attract audience. While some are making great content, there are others who often break the law and make videos that can send a negative message to public. We have featured some of these negative incidents on our website too. In one such incident, a man from Uttar Pradesh was fined Rs 31,000 after he rode a motorcycle on the highway without a helmet and drank beer. He did this for a social media video.
बुलेट है कोई बात नहीं, सब रास्ता देंगे, लेकिन खुल्लेआम बियर पीते हुए.. बिना हेलमेट.. बुलेट चलाओगे तो!! रील बनाने के चक्कर में 31000 रुपए का चालान आ गया न…. अब झेलो.. महंगी पड़ी ये रील.. इतना तो एड भी नहीं मिल रहा होगा यू ट्यूब से भाई को.. pic.twitter.com/cSEUMsWGfx

— Vivek K. Tripathi (@meevkt) January 20, 2023
The video has already surfaced online and it has gone viral too. The small 15-second video shows the guy drinking beer from a can while riding the Royal Enfield motorcycle. It should be noted that the biker is doing this on a busy highway. The guy is said to be a resident from Uttar Pradesh's Ghaziabad district. Ghaziabad Police has issued a massive fine of Rs 31,000 for breaking multiple rules. The man was recording a social media video and he was drinking beer for the same. Drink and drive is illegal in the country and cops can even take your vehicle into custody for the same. The challan is shown in Twitter post and it is clear that the fines have been issued under 4 sections of MV Act 1989.
Also read: Modified Royal Enfield Thunderbird 500 motorcycle from Eimor Customs look beautiful
Riding a motorcycle without a helmet is dangerous. A riding helmet is mandatory as it would protect the rider from head injury in case of an accident.  There are some reports that suggest that the guy was riding the bike on Delhi-Meerut Expressway which does not allow two-wheelers. Cops often wait for offenders at the end of the Expressway to fine two-wheeler riders who illegally ride on the expressway.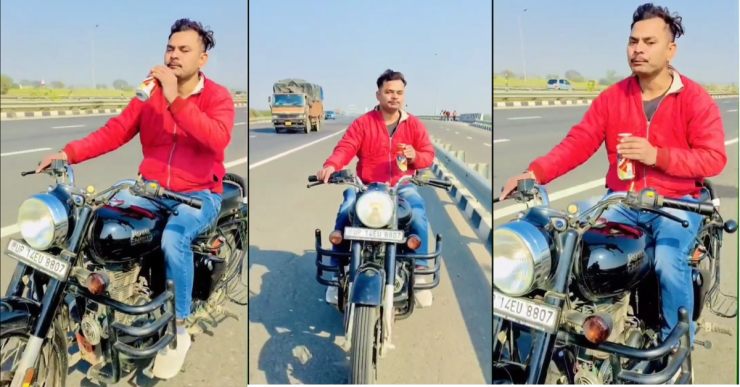 This is not the first time, we have come across such videos on the internet. Last year, Uttarakhand police had booked an Instagram influencer Bobby Kataria after a video of him drinking in the middle of a highway became viral. In the video, the influencer was also seen blocking the traffic. Driving or riding a bike under the influence of alcohol is extremely dangerous. alcohol causes the body to react slower, which can cause massive accidents. In this case, the rider did not end crashing the bike into other vehicles however, he is clearly seen drinking from the beer can while riding the bike. This sends a wrong message on social media as many people may try to imitate the same.
Recently we had another Instagram influencer from Ghaziabad who was fined Rs 17,000 for stopping car on the highway and posing for reels and photos. The influencer was identified as Vaishali Chaudhary Khutail and she was seen recording a video reel on an elevated highway in Ghaziabad's Sahibabad area. The video went viral and many people criticised Vaishali for her act. Traffic police issued a fine of Rs 17,000 on the Instagram influencer for creating inconvenience for the public on a busy highway.
Also read: BSA Motorcycles unveil Gold Star 650: Will Rival Royal Enfield 650 Twins