Skoda is offering discounts ranging between Rs. 80,000 to Rs. 150,000 on Laura.
The discounts could be because of the general slowdown (car sales fell 18 percent in August) that seems to have impacted Laura sales too. After a good June, when Laura clocked sales of 643 units, July and August have been pretty ordinary at 151 and 168, respectively.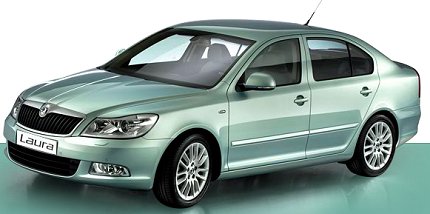 Result: Skoda dealer in Delhi, Jai Auto, is offering attractive discounts. And unlike in the past, when discounts have generally been limited to slow moving petrol models, the discounts this time covers the entire range.
So do these deals reset value equations in the segment?
Skoda Laura vs. Toyota Corolla Altis
Both cars in their diesel avatar have strong reputation for fuel economy. The base Corolla Altis 1.4 D4D J diesel is priced at Rs 12 lakh. The base Laura Ambition 2.0 TDR CR MT costs Rs. 14.64 lakh but with a discount of Rs. 80,000 will cost only Rs. 13.84 lakh. Laura is much better spec-ed than Corolla and comes with more power (110 bhp vs 89 bhp), and more space including a much larger boot.
Still, the price difference is substantial. For someone looking for frugal, diesel sedan with solid build quality, the entry level Corolla is hard to beat.
But if you are looking for a bit more, particularly features such as airbags and parking sensor, you'll have to pay more in case you want a Toyota—the D4D G costs 13.96 lakh is slightly less spec-ed than base Laura.
In fact, the Laura's base model pretty much has all you are likely to need and with discount offers great value.
The Rs. 80,000 discount runs across the entire diesel range.
Skoka Laura vs. Chevrolet Cruze
There isn't much to choose between the base versions of Laura and Cruze in terms of price. Laura, after the discount, costs Rs. 13.84 lakh while Cruze LT costs Rs. 1,000 more. Both are similarly spec-ed too.
So it boils to preference: Cruze has much more power (164 bhp vs. Laura's 110 bhp) while Laura returns a better mileage (14 kmpl vs. Cruze' 11 kmpl).
But Skoda trumps Cruze when it comes to automatic version. Cruze LTZ AT costs Rs. 15.67 lakh while the Laura Ambition 2.0 CR AT will cost only Rs. 15.04 lakh after the discount. That's a good Rs. 63,000 less. And both are pretty well loaded with Cruze having a slght edge with cruise control and leather upholstery.
Still, the price difference is substantial making Laura a pretty good VFM option.
Discount on Skoda Laura's petrol models
Skoda is also offering a discount of Rs. 150,000 on its petrol models. As a result the baseline Active 1.8 TSI sees a price drop from Rs. 12.9 lakh to a rather tempting Rs. 11.4 lakh. The 160 petrol Laura is more for driving enthusiasts—so if you can fill the tank, then now is a good time to buy one.
Overall, the discounts are substantial—the fact they cover diesel models makes them even better. The festive season is some time away. The festivities can begin though!