Upcoming Small Hatchback & Sedan launches in 2011 in India
Maruti Sx4 Diesel launch – January 2011* – price Rs 9 lakh
Shinzo Nakanishi, MSI director and CEO was the first to confirm the launch of the Sx4 diesel because he stated that the company has commenced work for making a diesel engine to power its mid-size sedans and the new engine will be utilized for launching a diesel version of Sx4.
Maruti Suzuki SX4 is expected to have an all new 1.6 litre DDiS CRDi diesel engine that produces maximum power of 115 bhp and maximum torque of 200 Nm. This is quick and timely response from Maruti to increased competition in the compact sedan market in the past three months which launch of Volkswagen Vento and Toyota Etios. So if you like to drive a macho diesel sedan that boasts a 'true value for money', do wait for a few more weeks. The much awaited diesel version of the Sx4 will likely be launched in January 2011 in the price range of Rs 8 lakh to 10 lakh. Read our Toyota Etios road test
Chevrolet Beat diesel and LPG launch – February 2011* – price Rs. 4.5 lakh
The speculation of a Beat diesel variant started soon after the launch of petrol version because the car has received a warm welcome in the Indian market. In August, GM India confirmed the launch of Beat diesel.
Sources say that the diesel Beat will be powered by a newly developed 1.0 litre, 3 cylinder engine that could produce 60 PS of maximum power and appropriate torque. Besides, media has caught Beat LPG being tested and this variant is also expected to be launched along with diesel variant. Chevrolet Beat diesel will be launched in early 2011 at a price range of Rs. 4 – 5 lakh. Read our earlier story Chevrolet Beat LPG and diesel launch in 2011
2011 Maruti Suzuki Swift launch – March 2011* – price Rs. 5 lakh
The segment leader Suzuki Swift will get a minor facelift in 2011. But, Maruti is tight lipped about the launch of the car although; the test mules have already been caught in Haryana. The facelifts include redesigned headlamps, new tail lamps, refurbished boot lid and slightly improved rear legroom. Read our recent story about the 2011 Suzuki Swift for India
Swift is too common in Indian market mainly because it is an overall good package with refined K series and DDiS engines, fun to drive aspect and decent resale value. But in the recent past, Swift is facing serious competition from Ford Figo (especially diesel), Nissan Micra, Hyundai i10, i20 and more to come in future.
New Ford Fiesta launch – April 2011* – price Rs.6.8 lakh
Updated 14 April 2011: The new Ford Fiesta is now here! Read 2011 Ford Fiesta unveiled at New Delhi. This is only an unveiling – the actual launch should happen soon. At least that is what they have told us!
Unlike the current Fiesta model sold in India, the new Fiesta will have a sharper, aerodynamic character with ascending shoulder lines giving a brand new profile all over. On the inside, expect a funky dashboard, loaded with features and durable interiors, modern color combinations and additional comfort. Read our earlier story 2011 Ford Fiesta's India launch
A heavily camouflaged Ford Fiesta sedan has been seen testing near Chennai. The test mule (B299 – codename and based on Mazda 2 model) gets a new age design theme. This adds strength to our expectations of the new Fiesta which is not just a mere facelift with a few changes. If you are the one looking for a entry C segment sedan such as Maruti Sx4, Honda City or Hyundai Verna. Expect Ford to launch Fiesta in the early months of 2011 with prices starting from Rs. 6.8 lakh.
Tata Nano Plus launch – March 2011* – price Rs. 2.5 lakh
Tata Motors is planning to launch an upgraded and more powerful variant of the Tata Nano, called the Nano Plus in 2011. The name might change when the actual launch takes place, though. Related: Tata Nano long term road test and review
The Nano Plus will likely come with a 1-litre petrol engine that will churn out more than 60 hp of power and a better torque compared to the present 623 cc mill that produces a mere 34.55 hp of peak power and 48 Nm of maximum torque. The Nano Plus would come with improved interiors, an integrated audio system, alloy wheels and ABS. Also, there are chances for Tata designers to use the Nano Europa features in Nano Plus. The car is sure to lose the 'World's cheapest car' tag, but will pose a threat to Maruti Alto for sure. Expect Tata Nano Plus to be launched in March 2011 with a price range of Rs. 2.10 – Rs. 2.80 lakh. Read about the Tata Nano Plus launch
Tata Nano diesel launch – June 2011* – price Rs. 3 lakh
Bosch, the major manufacturer of automotive components, based in Germany, has announced in January 2010 that it has developed a special diesel engine in partnership with Tata Motors for the small car Nano. BSMotoring reported that it had caught Nano diesel car being tested in Mumbai- Pune Expressway in April 2010. Here is our story about the upcoming launch of the Tata Nano diesel
Various sources say that Nano diesel was to be made available sooner than expected. Now, since Tata Motors is making eleventh hour efforts in pushing Nano to customers especially the bottom of the middle class, two wheeler owners by announcing zero down payment, in exchange of two-wheeler, 4 years/60,000 km warranty, we expect the Nano diesel to be launched in second half of 2011 based on the response for Nano Plus in the market. The price of Nano Diesel could be around Rs. 3 lakh.
New HM Ambassador launch – June 2011 – price Rs. 6.5 lakh
The car that has rolled on every length and breadth of India with 60 years of its presence in the country's car market, known as the 'King of Indian roads', the Hindustan Ambassador will get a major facelift. Read our story on the upcoming Hindustan Ambassador models
The 2011 Amby will weigh less than the present model. There is speculation regarding an enhanced engine (BS V compatible) and all new gearbox. Better interiors are also expected. The company is working with foreign experts to upgrade the Amby's design. HM is optimistic about the upcoming 2011 Amby reviving the carmaker's fortunes. Expect the new variants of Ambassador to hit showrooms by mid 2011 at prices ranging from Rs. 6.5 lakh.
Upcoming MPV launches in 2011
Chevrolet Tavera BS IV launch – Jan 2011* – price Rs. 10 lakh
Tavera for GM India did its job in establishing the brand in the country just like Qualis did the job for Toyota. The able MPV's sales halted in metros and BS IV compliant cities since April 2010. The company was looking for a partner to source BS IV engine.
In August 2010, the company stated that the Chevrolet Tavera will be relaunched on January 1, 2011 with a BS IV complaint (capable of being upgraded to BS V) engine sourced from International Cars and Motors Ltd (ICML) or Sonalika as it is popularly known. This engine would be a 2.0 litre diesel motor and there are no further specifications revealed. Wait a few days as GM will launch the Tavera on January 1st, 2011 at a price of around Rs. 10 lakh.
Luxury Cars
2011 Audi A8 launch – January 2011* – price Rs.76 lakh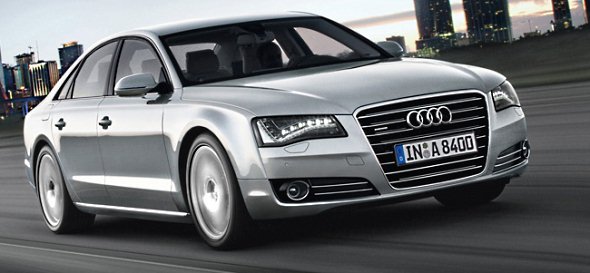 Audi India is planning to launch its super luxury sedan A8 in India in the first month of the year. In terms of styling, the new new 2011 Audi A8 will not be radically different from the outgoing model though it'd be bigger. It would come with several revolutionary features that are an industry first. Built using the brand's aluminum space frame technology, the new A8's chassis will be 40% lighter than a comparable steel frame.
Audi will offer the A8 powered by 4.2 litre FSI V8 engine that belts out 367 bhp of maximum power and 445 Nm of maximum torque. The diesel variant will be powered by 3.0 litre TDI V6 diesel engine that produces 247 bhp of maximum power and 550 Nm of maximum torque.
In India, the A8 will compete against the BMW 7-Series and Mercedes-Benz S-Class. Audi is aiming to increase its market share from 18% to 30%. The latest launch from the company in India is the Audi Q7 luxury SUV, priced Rs. 59.29 lakh. Audi India is planning to launch its super luxury sedan A8 Audi A8 petrol will be priced at Rs. 91 lakh and A8 diesel will be priced at Rs. 76 lakh. The company is planning to launch the petrol variant first on January 10, 2011.
2011 Audi A7 launch – March 2011* – price Rs. 65 lakh
Audi's brand-new luxury sedan, the A7 Sportback, is all set to hit Indian tarmacs by 2011. The A7 is designed to slot in Audi's portfolio between the A6 and A8. The A7 is a very niche product pushing the German cult brand to an all-new market segment addressing a new breed of buyers. It fuses the coupe concept into a four-door sedan. In fact, Audi calls the A7 a "four-door coupe" that brings together the best of three worlds: the sporty elegance of a coupe, comfort of a sedan and the practicality of a station wagon. Related: 2011 Audi A7 India launch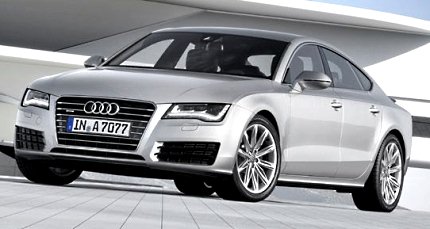 The A7 has been designed to seat five, but in case you're moving house, the 535-litre boot space can be further extended by folding the two rear seats flat to give a massive 1390 litres. The A7 Sportback will hopefully be available in both petrol (2.8-litre, 3-litre) and diesel (3-litre) engine variants. The 2.8-litre, V6 petrol engine will make an impressive 201 hp of peak power and 286 Nm of maximum torque. The 3-litre, V6 will produce 295 hp of power and 449 Nm of peak torque. Sources have caught the A7 being tested in Pune highway. In India, the A7 will be launched in 2011 and priced around Rs 60-70 lakh, taking on the likes of BMW Gran Turismo, BMW 5 Series, Mercedes-Benz CLS and Mercedes-Benz E-Class Cabriolet.
2011 Volkswagen Jetta launch – June 2011* – price Rs. 18 lakh
Volkswagen India has officially confirmed the launch of the 2011 Jetta but the price details are yet to be released. Volkswagen Jetta in India was not a big success while its cousin the Skoda Laura has been received well, thanks to the goodies it offers. However, Jetta is known for its fabulous build quality, mature styling and 5 star safety.
While the current Volkswagen Jetta has mature styling, the new Jetta, when launched in India, will have looks to lock horns with Chevrolet Cruze, Honda Civic, Skoda Laura and Toyota Corolla Altis. The wheelbase of the 2011 Volkswagen Jetta is now longer by 2.76 inches, while the overall length is up by 3.54 inches. Expect the new Jetta to be priced at around Rs. 16 lakh – Rs. 19.5 lakh and launched by mid 2011.
2011 Volkswagen Passat launch – June 2011* – price Rs. 24 lakh
Passat, the 'launch pad' car for Volkswagen in India, has met an average success selling about 50 units a month when the segment leader, Honda Accord is the most preferred luxury sedan selling above 200 units a month. However, things may change when the new car is launched.
The new edition Volkswagen Passat is the seventh generation car since its launch in 1973. Passat's front grille resembles the Phaeton and has given a bold new look to the luxury sedan. The interiors will also get latest technological innovations that are previously found only in luxury class cars.
The new Passat, if priced competitively, would pose a stiff challenge to the likes of Honda Accord V6, Nissan Teana, Skoda Superb and Toyota Camry. If early impressions, from the international press, are anything to go by, the new Passat is a notch above its competitors. Expect Passat to be launched in mid 2011 with prices ranging between Rs. 23 lakh – Rs. 25 lakh.
2011 Fiat 500 launch – June 2011* – price Rs. 16 lakh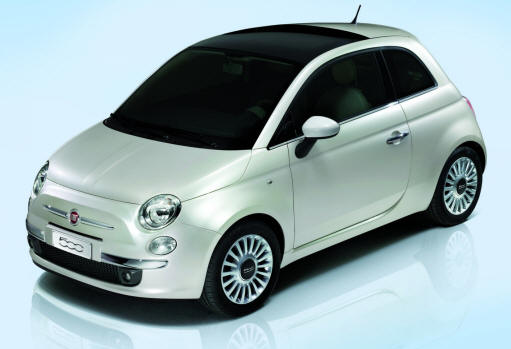 Fiat India has been saying that its premium compact car Fiat 500 (Cinquecento) will be re-launched in 2011. There are chances for Fiat to bring the technologically advanced TwinAir engine to this India-bound model, although the Italian carmaker is yet to confirm the news. The new engine technology would help the Fiat 500 outperform existing models.
Fiat's latest gear technology, a Dualogic robotized gearbox along with an ECO button, will reduce torque by 100 Nm to minimize fuel consumption making it great for city driving. The 900cc, two cylinder, 85 HP turbo petrol engine could do an impressive 173 kmph with a mileage of over 24 kmpl. Compared to the 1.2-litre engine that powers the current Fiat 500, the new TwinAir engine is claimed to offer 23 percent more power and 30 percent better performance.
While Beetle sales stood at more than 300 units since its launch 2 years back, Fiat sold only 68 units of the Cinquecento. With the launch of TwinAir engine, Fiat India may fetch more customers for the cult brand 500 when launched in 2011. Expected price range: Rs. 14 – 17 lakh.
* – All the launch months mentioned above are speculative and may vary