There is a spate of launches set for the new year. Here we take a look at the new car launches of 2011
Upcoming small Hatchback & Sedan launches in 2011
Skoda Fabia sedan – Feb 2011 launch * – price Rs. 8 lakh
Skoda India is planning to launch a sedan based on the Fabia hatchback. Codenamed SK125, this car can be expected early on in 2011. The SK125 would get a 1.6 litre TDCR diesel engine from its parent company Volkswagen. And the petrol engine variant could likely have a 1.6-litre mill. Related: Skoda Fabia road test
The SK 125 will have to find a space for itself in the increasingly crowded entry-level sedan space, with the likes of the Honda City, Volkswagen Vento, Fiat Linea, Tata Indigo Manza, Maruti Sx4, Hyundai Verna, Chevrolet Aveo, Toyota Etios and Ford Fiesta. If you already admire the performance and built quality of the Fabia and are looking to upgrade to a sedan, the SK125 is just for you. The price of the SK 125 is expected to be around Rs. 8 lakh.
Toyota Etios Liva – April 2011 launch * – price Rs. 4.5 lakh
The Etios petrol sedan has been given a red carpet welcome by Indians for more than 12,000 cars have been booked even before the models reached the showrooms (so no test drive). Although Toyota has not revealed the engine specification, we hope a peppy 80 bhp, 1.2 litre petrol mill to perform its duty in Liva.
The Toyota Etios Liva is just 890 kg and this will make the car a quick and fuel efficient hatchback. Experts feel that interiors of Liva will set benchmark in the segment. In April 2011, Toyota Etios Liva will be launched to take on the segment topper Maruti Swift. Similar to the aggressive pricing of Etios sedan, we expect Liva to be priced from Rs. 4 lakh to Rs. 5.45 lakh.
Chevrolet Sail – June 2011 launch * – price Rs. 4 lakh
The China-based Shanghai Automotive Industry Corporation (SAIC) has picked up a 50 percent stake in GM India. So the chances of GM India re-badging an SAIC car model and selling it under the Chevrolet brand in India are good. There is speculation GM India could launch the Chevrolet Sail sedan which is currently sold as an entry sedan in China.
GM sells the Sail hatchback too in the Chinese market. Hence, launching the Sail in India would solve two purposes – that of launching a hatchback and a good sedan with lot of common parts, similar to Maruti's strategy with the Swift and Dzire and Tata's strategy with the Vista and Manza. It has to be noted that Sail is developed based on Opel Corsa platform.
Sail is expected to be launched in 2011 at prices ranging between Rs. 3.5 lakh and Rs. 6 lakh.
Honda Brio – October 2011 launch * – price Rs. 4.5 lakh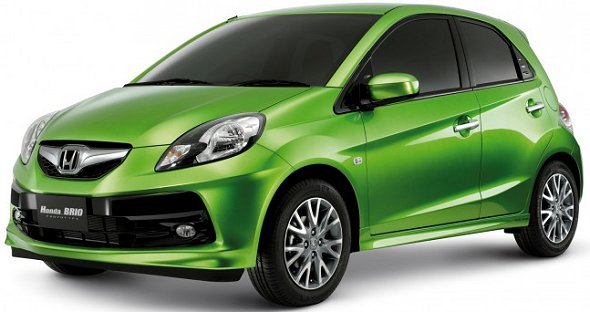 Finally, Honda will foray into mass market segment by launching Brio in India under Rs. 5 lakh. And this time it will be a head-on collision with its arch rival Toyota — with its Etios Liva. The Indian auto market is setting stage for a cut throat market with all the major players rolling up their sleeves and fighting to become a mass volume leader.
The Honda Brio has compact dimensions (3610 mm x 1680 mm x 1475). But, as Honda's philosophy is Man Maximum – Machine Minimum, we expect roomy interiors, good number of cubby holes and a decent boot. Brio will take on Chevrolet Beat, Ford Figo, Nissan Micra, Liva and Swift from October 2011. Expected Price: Rs. 4 lakh – 5 lakh. The car will be a bit smaller than the Honda Jazz X, the premium hatchback car from the company which did pretty badly in India.
Nissan Sunny – October 2011 launch * – price Rs. 7.5 lakh
Nissan revealed a sketch of the new global sedan on October 13th. The name of this car has been rumored to be either 'Sunny' or 'Versa' or 'Tiida'. Sunny's exteriors have little to do with the Micra, but it does resemble Teana, especially the front grille. The side profile has large glass area but the rear is disappointing and doesn't gel well with the car's overall design. We have written about the upcoming small sedan from Nissan several times before. Read our earlier stories: Nissan Micra sedan to be called Sunny?, Nissan Sunny spy photos from China and whether it could be called the Versa.
Nissan's upcoming sedan would compete against the Swift Dzire, Volkswagen Vento, Honda City, Tata Indigo Manza, Fiat Linea and Toyota Etios. The expected price of Nissan Sunny is Rs. 7.5 lakh and it is expected to be launched in October 2011.
Hyundai 800 cc – December 2011 launch * – price Rs.2.8 lakh
Hyundai is currently developing a 800 cc engine-powered small car to take on Maruti Alto, India's largest selling car. To be positioned below the Santro model, the car would be given its shape jointly by Indian and Korean engineering teams at Hyderabad and Namyang.
Industry observers feel that Hyundai Motor India would make the new 800cc car for the domestic market and would also take it to the global markets later on. There isn't much information about the car except that Hyundai has authenticated its development. The price of the new small car from Hyundai should be below Rs. 3 lakh and is expected by the end of
SUV/MPV launches in 2011
Tata Venture – February 2011 launch * – price Rs. 4.5 lakh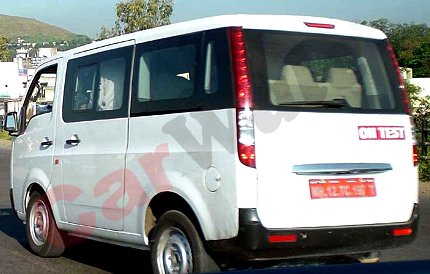 The Tata Venture was expected in November 2010, but the company has not yet launched this practical MPV. Test mules of the Venture had been caught several times since April. The Venture is based on the successful Tata Ace mini truck platform. Therefore, Venture can be expected to come with a higher ground clearance and rugged chassis. Plus, large interior space would especially attract cab operators by the drove. Related: Buying used SUVs in India
Venture measures below 4 meters in length. But, Tata is able to build three rows of seat with adequate leg room per row and still provide boot space. The seating can be adjusted for five, seven, or eight people in three-row front facing configuration. There is dual heating ventilation and air-conditioning with roof-mounted ducts, the company had said during the Auto Expo.
The Tata Venture is expected to be powered by a 1.4L turbo diesel engine that provides 71 PS power output. This tried and tested mill powers the Indica model cars already and hence its reliability and mileage along with trouble free maintenance is assured. The top speed is expected to be 125 kmph, which is respectable for a MPV.
Maruti's Omni and Eeco are two well-established products in the market in the India's minivan segment, but again, Maruti offers only petrol engines and hence the diesel powered Venture would be of an advantage owing to lower running cost. The Venture is speculated to be priced between Rs. 4.5 lakh to Rs. 6.5 lakh and launched during 2011.
Mahindra World SUV – March 2011 launch * – price Rs. 14 lakh
Codenamed W201, Mahindra & Mahindra has been working on its World SUV model for a while now. It is expected to be launched in early 2011. The first obvious thing is that this is bigger than the Scorpio and Xylo. Both in terms of size, and hopes of Mahindra, which is planning an Americas and Europe launch of the vehicle. Related: All you wanted to know about the Mahindra World SUV W201
Power is expected to come from Mahindra's own 2.2L mHawk CRDi engine, possibly renamed m-Vulture for this specific variant producing about 145+ bhp connected to an all new six-speed manual gearbox. However, we expect a V6 engine for exports, to make it more competitive against foreign models. If you had been expecting a global-class SUV from Mahindra, the W201 is just for you. Mahindra W201 is likely to be priced close to Tata Motors' Aria. Expect the W201 to cost around Rs. 14 lakh.
Force Motors Explorer – June 2011 launch * – price Rs. 13 lakh
Force Motors is planning to launch a new SUV in India. The Pune-based company has roped in Lotus Engineering, a leading global consultancy for driving dynamics to develop the ride and handling of this "personalized" SUV. Force Motors will build the SUV at the company's factory located in Pithampur investing around Rs 150 crore for an installed annual production capacity of 24,000 units. Read our story on the Force Motors Explorer
The new Force Motors SUV could be powered by a 2.2-litre engine built under licence from Daimler. This engine will belt out a very impressive 220 bhp. NVH levels will also be taken care of by foreign consultants. Force Motors is using parts from Chinese and Taiwanese suppliers in the new SUV to keep the cost down. The anticipated price of the new SUV which will compete with the Mahindra Scorpio and Tata Safari will be priced around Rs. 10 lakh – Rs. 15 lakh.
Mahindra Mini Xylo – June 2011 launch * – price Rs 5 lakh
Mahindra thinks there will be demand for an SUV like the Premier Rio (less than 4 meters length) in India. Mahindra is answering such a requirement by making the U203 (code name), the Mini Xylo.
The Mini Xylo may not be just the Xylo with the rear shortened to tuck it within 4 meters. Mahindra's R&D is said to be working on the Mini-Xylo's front design to make it more like an MPV. Test mules have already been caught by various sources. The Mini Xylo may be launched in mid 2011 at an expected price of Rs. 5 lakh.
Upcoming Luxury Car Launches in 2011
Maruti Suzuki Kizashi – January 2011 launch * – price Rs. 16 lakh
Kizashi, as the name suggests, ('something big is coming' in Japanese) will mark Maruti Suzuki's presence in the D segment. Kizashi doesn't resemble any of Maruti Suzuki's cars in India which is a good thing. Kizashi was introduced in the North American market in 2009. Kizashi is powered by a 2400 cc engine that produces 138 bhp at 6500 rpm and torque of 230 Nm at 4000 rpm. At this point, the news is that the Suzuki Kizashi would be launched in India in January 2011. If sales are good, there is a chance of Maruti actually manufacturing the Kizashi here in India instead of importing it as a CBU.
Kizashi should be the fastest Maruti in India as its top speed is 200 kmph and quickest too as it accelerates from 0-100 kmph in 7.6 seconds. A big plus for Kizashi is its All Wheel Drive (AWD) option, but we are doubtful if Maruti will launch the AWD version in India. If you are planning for a luxury sedan anywhere between the Honda Civic and Toyota Camry, do watch out for the Kizashi in Jan 2011.
Renault Fluence –April 2011 launch * – price Rs. 13 lakh
The Renault Fluence has been caught repeatedly being tested in and around Chennai where the company's production house (at Oragadam) is located. Read our first story about the Renault Fluence. This is a beautiful car as you can see from the photo here.
Renault may likely plonk in a new petrol motor (1.6 litre or 2.0 litre) besides offering a diesel version, the 1.5 litre DCi diesel producing 105 bhp, the same engine which has proven its performance and fuel efficiency in Mahindra Renault Logan and the Micra Diesel. Renault Fluence will compete with Toyota Corolla, Honda Civic, Chevrolet Cruze and Skoda Laura. We expect Renault to launch Fluence in April 2011 with a price range of Rs. 12 – 14 lakh.
Hyundai Avante – July 2011 launch * – price Rs. 14 lakh
Hyundai Avante is an all new Elantra and gets Hyundai's flowing, sculpted lines that have been seen on the i20, the new Next Gen i10. There are plenty of attractive curves on the car, rather than hard than angles, which enhance the aerodynamics of the car at least visually, though the visual appeal would take some getting used to as see in photos of the car. We had earlier reported that the Hyundai Avante's India launch would take place in December 2010, but now it looks like a 2011 launch after all.
We are yet to get any official word from Hyundai as to which engines (1.6 litre diesel/1.4 litre petrol/ 1.6 litre petrol) will be made available in India, but as Hyundai is a main stream player and known for the low ownership costs of its vehicles and its wide service network if offered with all the bells and whistles at a competitive price tag, Hyundai has a winner (Avante) on its hands. Hyundai Avante will compete with Toyota Corolla, Honda Civic, Skoda Laura, Maruti Kizashi and Chevrolet Cruze. Buyers of premium C segment cars, better watch out for this beauty on wheels!
* – All the launch months mentioned above are speculative and may vary