February is an interesting month for the automotive scene in India with four cars expected to make an appearance. This starts with a launch of a new mid-size sedan right at the beginning of the month. 
Carmakers are also eagerly looking forward to the Union budget, as that will decide pricing strategy for future launches from April onward. And with diesel prices set to rise by another 50 paise in a fortnight or so, the creeping increase in diesel prices is very real – and may result in a demand shift back to petrol by the end of the year. Also read: Upcoming diesel cars in India in 2013 
If you are planning to buy a car this month, here is what you have to look forward to.
Chevrolet Sail sedan
The Chevrolet Sail is finally here. It launches on Friday, February 1, 2013 in both petrol and diesel variants. The petrol Sail will come with a 1.2 litre engine putting out 85 bhp of power and 113 Nm of torque, which is pretty average going by initial reports. The car to watch for is the diesel powered Sail sedan, which comes with a 1.3 litre multi-jet diesel engine putting out 77 bhp of power and 205 Nm of torque. It is frugal, and yet packs quite a decent bit of performance. However, the rest of the car is pretty bland – with just average levels of equipment, and not something that could be a segment beater. Update: Chevrolet Sail has been launched at starting price of Rs. 4.99 lakh going up to Rs. 7.51 lakh. Read more: Chevrolet Sail launched 
2013 Honda CR-V
The new Honda CR-V is scheduled for a launch on February 12. The new CR-V will come with an all-new body, and improved features, but will still feature the old 2-litre and 2.4 litre petrol engines in slightly improved states of tune. It will come in all-wheel drive and front-wheel drive variants, with five-speed manual and automatic transmission options. The price of the new CR-V is likely to be slightly lower than the outgoing model. What the new CR-V has going for it is the attractive styling and pleasing interiors. It is also slightly bigger now – longer and wider than the existing CR-V, which should make it slightly more spacious. Also read: Honda to launch new CR-V on Feb 12.
Mahindra E20
The Mahindra E20 (formerly the Mahindra Reva NXR)  is one launch to keep a close eye on. Although dates have not been confirmed yet, it is likely to launch by the last week of February. This is going by Mahindra's word that it would take a "few" weeks from the announcement of the National Electric Mobility Mission Plan that was announced about two weeks ago. This will be an all-electric car that promises to alter regular everyday commuting for the better. Mahindra is working with the government to set up electric car charging points in a couple of cities. Delhi, in fact, has a plan to have an electric car charging point every 2km, and which should be functional in the next year or so. The Mahindra E20 promises a range of over 100 km on a full charge, and has features such as Sun2Car and Quick Charge, which should make it a decent city commuter at very low running costs for those who don't drive more than 50-60 km a day. Also read: What will be the price of the Mahindra E20 electric?
Ford EcoSport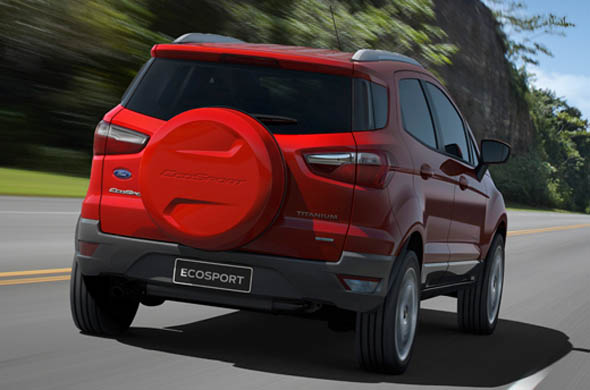 This is the most looked-forward to launch in February. The big-ticket launch if you will. The Ford EcoSport is likely to land up in dealerships by the third week of February with a launch announcement around the same time. Some Ford dealers have started taking unofficial bookings for the EcoSport (we've been getting regular calls about it), and the excitement Ford dealers have is palpable. A dealer in Delhi claims to have already taken about 300 bookings for the EcoSport, and this is when people have not even seen the vehicle. The EcoSport is likely to come in petrol and diesel engine choices – with the 1-litre EcoBoost petrol being an engine to watch out for – it is small, powerful (120 bhp) and fuel efficient (close to 20 kmpl). The diesel EcoSport will have the same engine as that of the Ford Fiesta – the 1.5 litre, 90PS diesel. Prices are likely to start at about Rs. 7.5 lakh, going up to Rs. 10 lakh. Also read: Unofficial bookings begin for EcoSport
These are the four vehicles that will make an appearance in February,  while other launches are likely only in the second half of March – that of the Chevrolet Enjoy MPV and the  Mahindra Verito notchback.
Which of these launches would you bet your money on?