Maruti Suzuki India is all set to launch a slew of cars in the coming year. This includes a diesel small car; the Wagon-R Diesel, a new Vitara SUV and more! Here we take a look at the cars that the brand in expected to launch in India in the coming year. Take a look.
New Maruti Suzuki Wagon-R Diesel
Expected launch: 2013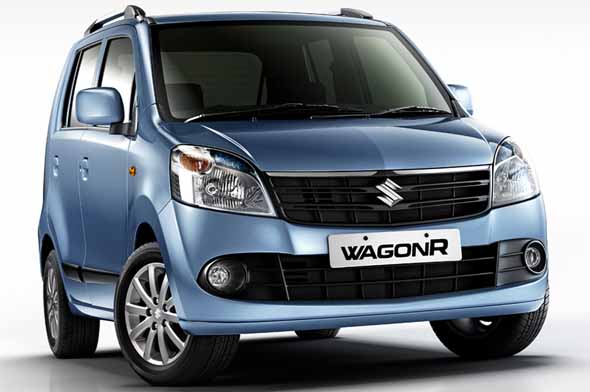 Maruti Suzuki hasn't officially come out with any details about their plans on the Wagon-R diesel but there are reports that the car will be launched next year. Rumour has it that Fiat is working on developing a new 1,000 cc diesel engine and this small diesel motor will find its way into the Wagon-R. Also read: Upcoming cheap diesel cars for India in 2013!
This small diesel mill is expected to be similar to the Smartech engine that powers the Chevrolet Beat small car. It isn't clear when this engine will be ready but once it is Maruti will use it for their small cars; the first being the Wagon-R.
New Maruti Suzuki Grand Vitara (1.9 DDiS)
Expected launch: 2013
The Maruti Suzuki Grand Vitara is one SUV that has almost gotten side lined in the herd of new SUV launches. The primary reason for the Vitara's dismal sales and lack of popularity has been the absence of a diesel engine option.
However things could change for the capable off-roader as Suzuki has launched it with a 1.9 litre DDiS motor in the U.K and this model could come to India. This motor produces 128 bhp of peak power and produces a massive 300 Nm of torque. Even if we get a de-tuned version of this motor (given the quality of fuel available here), we should still see a very capable engine which will be frugal and will offer good performance.  You can read more about the Vitara here: Maruti Suzuki Grand Vitara Group Page
This diesel heart could very well be a resurrection of sorts for the Grand Vitara as it will then be better equipped to compete with other SUVs which are all available in diesel options. Being a Maruti the diesel Vitara will likely get a positive response, though we hope Maruti offers minor changes to the face of the car as well.
It will likely get features similar to the present petrol fuelled Vitara along with new features like heated seats, MP3 compatible 7 speaker stereo system, auto-climate control and steering mounted audio controls. NVH levels too will be decent for a disel powered SUV and it may get the same interiors as the petrol model. The new Grand Vitara SUV is expected to be priced at around Rs.20 lakh-Rs.22 lakh.
New 2013 Maruti Suzuki Wagon R
Expected launch: 2013
Apart from a diesel Wagon-R the Wagon-R is also set for a major overhaul. Maruti Suzuki has already premiered the 2013 Wagon-R in the Japanese market and may eventually bring this refreshed Wagon R to India as well.
The new Wagon-R is dynamically different from the present Wagon R and looks sportier. It comes with large pulled back headlamps, a new rectangular grill with three thick chrome strips and large bumpers with an air dam upfront. At the rear it is similar to the present model but appears to be broader and taller due to the new bumper design. On the inside it will comes with a new dual tone dashboard along with a dash mounted steering wheel and gear lever. Also read: New Maruti Suzuki Wagon R premieres in Japan, may come to India!
This gives the Wagon R a smarter look and creates more interior space as well. It will be 3.39 metres long making it shorter than the present model. However the wheelbase remains unaltered at 2.4 metres. The internationally unveiled model got a 660 cc 3-cylinder, petrol motor that makes 52 bhp for the normally aspirated engine and 64 bhp for the turbocharged version. If and when we get the new Wagon R in India it will likely get the K series engine that does duty in the present Wagon R.
New Maruti Suzuki K10
Expected launch: 2013
The Alto has always been on the top of sales chart and will continue to sell in huge numbers even if Maruti Suzuki continues to sell it in its current form. However Maruti Suzuki isn't leaving any stone unturned and after the success if the recently launched Alto800. Also read: Maruti Alto 800 vs Alto K10
The Alto 800 was launched almost after a gap of 2 years from the launch of the Alto K10. The Alto K10 is the elder brother of the Alto800 and has a larger 1,000 cc K series motor. It makes 67 bhp of power at 6,200 rpm and 90 Nm of torque at 3,500 rpm. The K10 is the most fun to drive and punchy Alto that Maruti has launched yet.
Maruti Suzuki has now begun developing a 1,000 cc version of Alto 800's motor which will be used on the new K10. Essentially the new Alto K10 could be powered by a more powerful version of the present K10's 1.0 litre motor. Maruti can be expected to load it up with more features like airbags, ABS, new upholstery along with cosmetic upgrades to make it more lucrative. For specific details we will have to wait for an official confirmation from Maruti Suzuki.
Do you think that these new models will help Maruti gain an even bigger advantage over its competitors like Hyundai, Ford, and Fiat etc? Share your views in the comments section below. Also read: Maruti Suzuki sales: Dzire beats Wagon-R, Alto sales see new high