(Updated February 2013)
The year will see some new and interesting diesel car launches. Honda will make its debut into the diesel sedan segment with the Brio diesel sedan, Chevrolet recently replaced the U-Va and the Aveo with the Sail U-Va and Sail sedan, Hyundai will launch the i10 in diesel and rumour has it that Maruti may plonk in a diesel motor inside the Wagon-R.
Here we take a look at all these upcoming diesel cars, which will likely have a key role in helping their respective car manufacturers boost sales in this diesel savvy market.
Honda Brio Sedan (Honda Amaze)
Honda confirmed that it will launch the Honda Brio-based diesel sedan called the Amaze in 2013. The Brio will get a new diesel engine which will be a 1.5-litre engine. This engine may later find its way to other Honda cars like the Jazz and the City. The Amaze will be launched on April 1, 2013. 
The absence of a diesel variant has been a cause of concern for Honda for quite a while now. With petrol prices rising day by day this trend of buyers preferring diesel cars may not change any time soon. Hence it will be a wise move from Honda to launch the Brio sedan with a diesel engine. Read more: Honda Amaze diesel fully revealed
Chevrolet Sail hatchback
Chevrolet launched the Sail U-VA replacing the Chevrolet Aveo U-Va on November 2. This car is powered by a choice of a 1.2 litre petrol engine and a 1.3 litre diesel engine. It is a spacious hatchback, and comes with safety features in the top two variants such as ABS and airbags. The Sail U-VA is priced between Rs. 4.44 lakh to Rs. 6.62 lakh. Read more: General Motors launches Chevrolet Sail U-Va hatchback
Chevrolet Sail sedan
The Chevrolet Aveo was replaced by the Sail sedan. Like the Sail U-Va, the Chevrolet Sail sedan is also powered by a 1.3 litre diesel engine and 1.2 litre petrol engine. The car is one of the most spacious in its segment and sports a 370 litre boot as well. It is priced to compete directly with the Maruti Dzire. This diesel engine puts out slightly more power at 77 bhp and 205 Nm of torque. It will be the volume driver for Chevrolet and is priced aggressively from Rs. 4.99 lakh to Rs. 7.51 lakh. Read more: Chevrolet Sail sedan launched at Rs. 4.99 lakh
Hyundai i10 diesel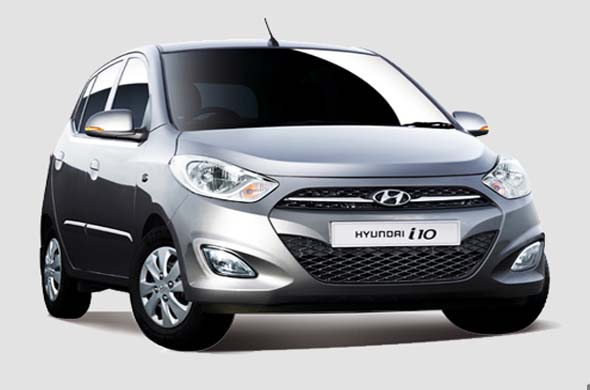 Hyundai is planning to launch the i10 small car with a 1.1 litre diesel engine. The new Hyundai i10 with a diesel option is likely to see a September 2012 launch in India. The i10 diesel will be priced roughly Rs. 90,000 more than its equivalent petrol variant, giving it a starting price of about Rs. 4.6 lakh, ex-showroom.
The diesel i10 will likely come with a five-speed transmission and will compete with cars such as the Chevrolet Beat diesel and the Ford Figo diesel. Also read: New Hyundai i10 diesel coming next year
Wagon-R Diesel
Although no official word on the Wagon R diesel is out, rumour has it that Fiat is developing a new 1,000 cc diesel engine. Fiat is working full throttle on the small diesel engine which will be very similar to the Smartech engine that powers the Chevrolet Beat small car. It isn't clear when this engine will be ready but once it is Maruti will use it for their small cars.