The coming year will see a slew of exciting new launches not just in the entry level price segment, but in the premium segment as well.
Here is a comprehensive list of upcoming SUVs in India.
Ssangyong Korando – July 2011
The Ssangyong Korando will be the first product from the brand to hit the Indian market. The SUV boasts stylish swept back headlamps, a large mesh front grille and diamond shaped fog lamps and 17-inch wheels.
To see images of the Korando click here.
Engine specs
The Korando is a soft-roader powered by a 2.0L turbo diesel engine that produces 173 bhp of max power and could offer a good fuel economy of around 16 kmpl. The engine is mated to a 6-speed automatic transmission. The top-end variant will feature all-wheel-drive while the entry level variants will have only front-wheel-drive.
The Ssangyong Korando is a 5-seater with limited boot space. The rear seats of the Korando however can be folded to increase the luggage space.
The key features of the Korando include electrically adjustable and folding outside mirrors, power door locks with auto-locking, steering-mounted audio controls, a multi-information display, traction control, cruise control, a CD changer with USB and aux-in and climate control.
Price
The Korando could be priced at around Rs. 15 lakh. The Korando will take on the Skoda Yeti and low-end variants of the Chevrolet Captiva and Ford Endeavour.
Expected Launch
The Ssangyong Korando is expected be launch in July, but there are chances that Mahindra may post pone the Korando launch as their all-new world SUV's launch is also expected in the same month.
Mahindra World SUV – September 2011
Mahindra's much awaited World SUV (W201) will be launched before Diwali. As CarToq had reported earlier, the W201 will first be launched as a front-wheel-drive followed by all-wheel-drive variant.
The test mules of the World SUV, which is built on a monocoque platform hint that the car will have a seven slat grille, day-time running headlamps, turn indicators on the rear view mirrors and will have a larger dimension than any Mahindra product in India.
Engine specs
Power for the World SUV will come from a 2.2 litre mHawk engine that will produce around 138 bhp, and the car will be mated to a 5-speed manual transmission.
There are speculations that this SUV could be powered by a 3 litre diesel engine that makes 180 bhp of maximum power, but there are no official confirmations. For the high-end all-wheel-drive W201 Mahindra will use a Borg-Warner on-demand 4×4 system.
Price
The base variant of the upcoming Mahindra SUV will likely be priced at Rs. 11.50 lakh while the top-end variant with all bells and whistles will cost Rs. 14 lakh.
Expected Launch
Mahindra has been testing the World SUV since last year and will ensure their premium product has no sore points when it hits the market around Diwali. Mahindra World SUV will take on the Skoda Yeti, Ford Endeavour and Tata Aria.
Tata Merlin – (New Safari), October 2011
Tata Motors is planning to launch a refreshed Safari which it will call the 'Meriln'. Spy shots of the upcoming model from various sources hint that the Merlin will have a squarish face and will take design cues from the Range Rover models. Also read: Tata Safari Merlin, spyshots
There are expectations that Tata will equip the interiors of the new Safari with good quality plastics and also ensure that the fit and finish are up to mark.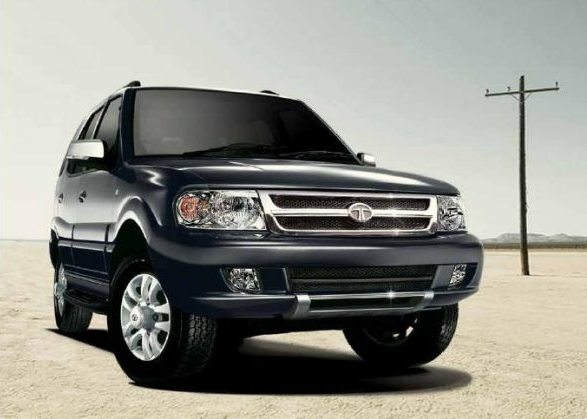 Engine specs
The new Safari will be powered by a 2.2 litre Dicor engine that is expected to make around 140 bhp of maximum power. The engine will likely come with mass flywheel as in the Tata Aria and will be mated to a G-76 gearbox.
Assuming the Merlin is constructed on the Tata Aria platform, the spare wheel could very well be tucked under the boot door as in the Aria. The new Safari will either have 4×4 all-wheel drive and this could very well be the same old Borg-Warner part-time all-wheel-drive system. Tata Safari will come with disc brakes on all four wheels, ABS, EBD and ESP.
Price
The new Safari could be priced slightly higher than the current model with a price range of Rs. 9.33 lakh to 14.51 lakh (on-road, Delhi).
Expected Launch
Expect the Tata Merlin to launch during October 2011. The new Safari will lock horns with its straight rival, the Mahindra Scorpio and the Force Motors One SUV.
Skoda sub 10 lakh SUV – December 2011
Skoda Auto India is planning to launch a sub-10 lakh SUV which could be the Fabia Scout. The Fabia Scout looks like a soft-roader and has plastic cladding all around the lower half it also has flared wheel arches and its bumpers sport skid plates. Read more here.
Engine specs
Skoda may plunk in a big (Possibly a 1.6 litre diesel) motor under the Fabia Scout's hood. The 1.6 litre diesel engine could be sourced from the Volkswagen Vento.
It would be interesting to see if the Indian market welcomes an unconventional SUV like the Fabia Scout knowing well that station wagon body type hasn't been a hit among Indian buyers.
Price
The Fabia Scout could be priced in the Rs.7 – 10 lakh price range
Expected Launch
Skoda Fabia Scout could be launched in December 2011.
Face-lifted Chevrolet Captiva – Jan 2012
GM (General Motors) India will soon replace its aging Chevrolet Captiva SUV with the latest (2012) Captiva sold in European markets by January 2012. Also read: 2012 Chevrolet Captiva: India launch soon
The new Captiva has a dual cockpit and its design is similar to what was featured in the Beat and Cruze.
Engine specs
The 2012 Chevrolet Captiva will get a spruced up 2.2 litre CRDI diesel motor that produces 163 bhp of maximum power and 350 Nm of maximum torque.
The new Captiva could be offered with both manual as well as automatic transmission. The newly developed 6-speed automatic transmission can also act as manual gear box via the Driver Shift Control (DSC) feature.
The face-lifted model may get an all-new All-Wheel-Drive (AWD) system that can distribute the torque to the rear wheels by almost half. Features such as ESC (Electronic Stability Control) that includes Hydraulic Brake Assist, Descent Control System and Active Rollover Protection are also expected in the upcoming model.
Price
The new Captiva could be priced in the Rs. 20 – 24 lakh range. Expect GM India to launch the face-lifted model by January 2012.
Renault Koleos – October 2011
Renault will launch its first SUV, the Koleos in November 2011. Koleos is an all-terrain crossover that would attract buyers who want an MPV's interior space as well as an SUV's off-road capabilities. Also read: Renault Koleos October launch confirmed
Renault assures that the Koleos will offer precise steering feedback, impressive stability, a commanding road view and sedan-like drive.
Engine specs
The Koleos will be powered by a 1,995 cc (2.0 litre) diesel motor that produces 150 bhp of maximum power and 320 Nm of maximum torque. The petrol version could be powered by 2.5 litre motor that could make 168 bhp of max power and 226 Nm of max torque.
Expect Renault to offer the Koleos in both 4×2 and 4×4 versions. This is based on the fact that not all SUV owners in India take on off-roading adventures.
Price
Renault Koleos could be priced in the Rs 20 – 25 lakh price range.
Expected Launch
Expect Koleos to be launched in November 2011.
Renault Duster – Nov 2012
The Renault Duster will be the second SUV from the French car maker for India. The upcoming Duster has horizontal chrome grilles, a dominant Renault logo and a chrome strip at the rear with the SUV's name embossed on it. Read more here.
The high ground clearance, front, rear and side body claddings hint that the Duster has been designed to perform both on and off the road without damaging the car's underbody.
Engine specs
The Duster will likely come with a 2.0 litre petrol motor that makes 135 bhp of maximum power, although there were speculations that Renault might use the 1.6 litre motor that powered the Renault Logan.
The Duster's dimensions may cause a little disappointment to size-conscious SUV buyers as it measures only 4.3 m in length, 1.8 m in width. But, it could rival the lower variants of Skoda Yeti if priced in the same range.
Price
Localized production will help Renault India price the Duster between Rs.7 -Rs. 10 lakh and hence attract buyers of the Mahindra Scorpio and Tata Safari.
Expected Launch
Expect Renault India to launch the Duster in November 2012 or it could even be a little earlier.