With Maruti Suzuki going to launch the all-new Jimny lifestyle off-roader in the coming weeks, the compact SUV is undergoing the final stages of trials. A test mule of the Maruti Suzuki Jimny was recently spotted on a trial run in North India. In a video of it captured by another motorist following it, the Jimny passes through a Mahindra Thar, which gives a hint of how the road presence of the two SUVs compares with each other.
In a YouTube video uploaded by the channel 'Himalayan Solitude', a Bluish Black coloured Maruti Suzuki Jimny is seen undergoing trial runs on the hilly roads of Himachal Pradesh. The person who has captured this video is in another car which is following Jimny. While on the test run on the mountainous roads, the Jimny surpasses many other cars, one of which was a black-coloured Mahindra Thar.
Given the size of the Jimny and its weight, it is likely to outperform the Thar on the hilly twisty roads. It is likely to be more agile and more fun to drive as well.
In the glimpse when the new Jimny and Mahindra Thar pass each other, we have extracted some of the highlights of comparison between the two lifestyle off-roader SUVs. In terms of road presence, while both the SUVs might be measuring under the four-metre mark, the Thar looks slightly taller and more muscular than Jimny. Also, the wheel arches of the Mahindra Thar look wider than those of the Jimny.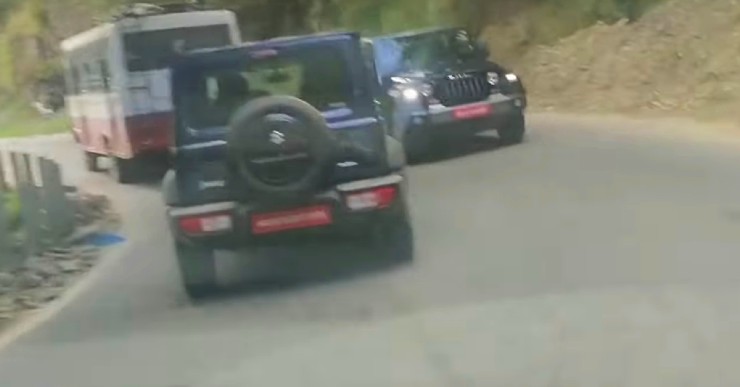 Also read: Maruti Suzuki greenlights Jimny for launch in India
However, this video only gives a comparison of the rear profile of the Maruti Suzuki Jimny and the front profile of the Mahindra Thar, as both were heading towards the opposite direction. It is not a full-fledged comparison, and for that, we have to wait till both SUVs are parked next to each other. However, given the dimensions on paper, it is the Thar which currently has an upper hand in terms of a taller stance. The Thar also gets larger 18-inch wheels, in comparison to the 15-inch wheels on the Jimny.
The second-generation Mahindra Thar has already proven its prowess with its successful run in the Indian market since its launch in 2020. With a muscular design with a touch modernization, potent powertrain options and a capable four-wheel drive system, the Thar still commands a high waiting period. The rear-wheel-drive versions of the Thar, which were launched in January 2023, have also fueled the interest of people towards the Thar.
However, with the launch of the new Maruti Suzuki Jimny, which is only a matter of a few weeks from now on, the Thar will finally have a worthy competitor. Unlike the Thar, which is sold with both petrol and diesel engine options, the Jimny will be solely offered with a 1.5-litre 104 PS petrol engine, with both 5-speed manual and 4-speed automatic transmissions.
Also read: Upcoming 2022 Maruti Suzuki Vitara Brezza rendered