The Toyota Innova is one of the most popular multi-utility vehicles for a reason – its bullet-proof reliability associated with the Toyota brand. There are examples of Toyota Innovas having covered over 3 lakh km without any major issues.
Toyota Innovas command a bit of a premium in the used car market. If you are looking for a used Toyota Innova here are some pointers to guide you.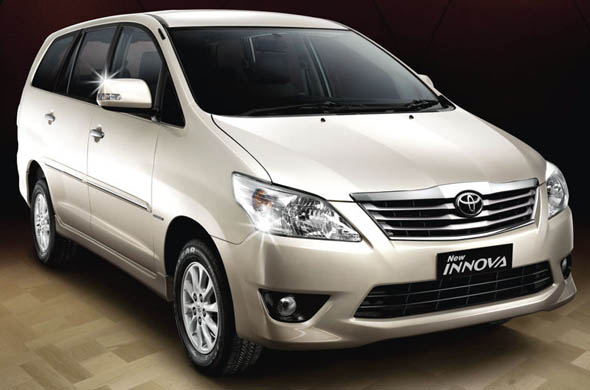 The Toyota Innova comes in both petrol and diesel variants, with the diesel accounting for over 80% of sales. The petrol Innova is powered by a 2-litre petrol engine that puts out 131 bhp of power and 181 Nm of torque with a 5-speed manual transmission. It gives only about 10 kmpl. The diesel Innova is powered by a 2.5 litre engine that puts out 101 bhp of power and 200 Nm of torque, with a 5-speed transmission. The Innova's unique proposition is the comfort with which it can carry seven passengers over long distances – making it a popular people mover.
The Innova was introduced in 2005 in India, replacing the Toyota Qualis. It has had two minor face-lifts since then, but has overall remained largely unchanged. The diesel has a far higher resale value than the petrol Innova, and don't come cheap.
Prices of used Toyota Innovas
Model 2005-2006: Rs. 5.75 lakh – Rs. 7 lakh
Model 2007-2008: Rs. 7.25 lakh – Rs. 9 lakh
Model 2009-2010: Rs. 8.75 lakh – Rs. 10.5 lakh
Model 2011-2012: Rs. 11 lakh – Rs. 13 lakh
The Toyota Innova is a pretty sturdy vehicle as long as it was maintained well, and nothing really went wrong with it. However, here are a few things to check with the vehicle.
Suspension
The Innova runs on 15-inch wheels with rather slim tyres and the suspension takes quite a beating. Check for rattles from the suspension. Also when you drive the vehicle check if it sways or bounces about excessively. Bushes tend to wear out every 50,000 km or so in an Innova and need replacing. Also check the condition of the shock absorbers. It's not too expensive to replace.
Engine
The Innova's engine (especially the diesel) is one that can last a very long time. But it needs to have followed a proper maintenance schedule. Check the condition of the engine oil. Start the engine and check for excessive black smoke – which means the injectors are dirty. Also see if the vehicle runs smoothly. If it stutters and stalls, you could be looking at expensive repair, because the Innova's fuel pump is quite sensitive.
Gearbox
The Innova has a fairly long throw gear lever. Check if the gear lever stays firmly slotted in gear. If it vibrates too much or moves about, chances are the shifter bushes need changing. And if you accelerate, listen for a clanging sound or the gearbox moving about too much. This means the gearbox mounts may need changing or the propeller shaft universal joint may be worn, especially with vehicles that have done over 80,000 km. Again, not too expensive a repair.
Electricals
The Innova has relatively simple electricals with no complicated gizmos. However, it does come with an immobilizer with non-duplicable keys. Make sure you get the entire key set when you buy the car, otherwise creating a duplicate key will be an expensive affair. Some parts like the alternator too are sensitive and sometimes fail. It can cost over Rs. 15,000 to replace.
Peripherals
The Innova has good quality plastics that last a long time and shouldn't be an issue. But listen for plastic rattles that sometimes occur around the area of the boot. Lights and bumpers are slightly expensive for the Innova.
Share any more tips you may have about buying a used Innova in the market with the CarToq community.