A Hyundai i20 is quite tough to come by on the used car market, as there are not many up for sale. For one, the car is relatively new, and two, owners generally seem happy with the car and not many want to sell.
From the list of used Hyundai i20s we've seen for sale, most of them command pretty good prices in the resale market, which shows that this car holds its resale value pretty well. Hyundai launched the i20 with as many as 10 variants, and now there are 12 variants on sale – five diesel and seven petrol, including an automatic petrol variant. Also read: Hyundai iGen i20 Asta diesel road test and review
The Hyundai i20 went through a facelift in May 2012, getting the family "fluidic design" look, and adding on even more features. The petrol is powered by a 1.2 litre engine putting out 84 bhp of power with a five-speed manual transmission, while one variant has a 1.4 litre petrol engine putting out 100 bhp of power with a four-speed automatic transmission. The diesel i20 comes with a 1.4 litre diesel engine putting out 89 bhp of power with six-speed manual transmission.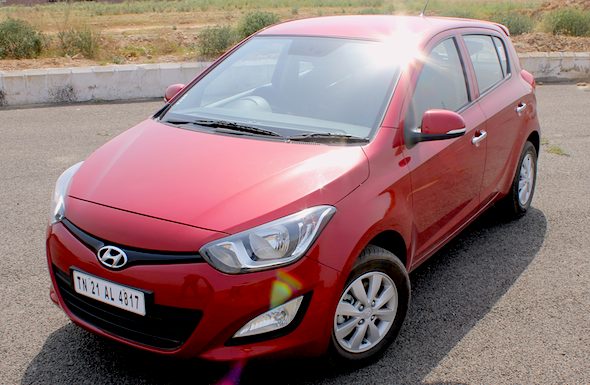 The top-end variant of the i20 is feature-rich – offering the most features among premium hatchbacks, which include power-folding mirrors, push-button ignition, Bluetooth, automatic climate control, alloy wheels, ABS, airbags, reverse camera and parking sensors among others. Also read: Hyundai iGen i20: Video review
Prices of used Hyundai i20
Model 2009 (petrol): Rs. 3.2 lakh – Rs. 4.8 lakh
Model 2009 (diesel): Rs. 4.75 lakh – Rs. 5.3 lakh
Model 2010 (petrol): Rs. 3.85 lakh – Rs. 5.4 lakh
Model 2010 (diesel): Rs. 5 lakh – Rs. 5.80 lakh
Model 2011 (petrol): Rs. 4.85 lakh – Rs. 5.6 lakh
Model 2011 (diesel):  Rs. 5.5 lakh – Rs. 6.75 lakh
What to look for in a used Hyundai i20?
The early model Hyundai i20s had some common complaints among owners, which included steering column rattle, poor airconditioning and some suspension issues. Some don't like the super-light steering feel in the i20, while others find this very convenient as it makes the car very easy to drive in the city. Otherwise, the car was pretty well built and if maintained well, is quite a trouble-free vehicle. Also read: The real mileage of i20 and Swift revealed by CarToq community
Steering rattles
Although Hyundai has come up with a fix for steering column rattles in the i20, many cars continue to have this issue. The fix consisted of a new yoke spring and polyurethane padding, but owners who have got this done say the problem resurfaces after a few months. The problem appears to be fixed in the newer Hyundai i20, but the first generation cars may have them. Check for this.
Weak airconditioner
Hyundai has fixed the problem of weak airconditioning, by changing some ECU settings on later i20s but the early model cars had a problem of insufficient cooling especially in the city, because the compressor would cut out too early. A program remap for the ECU could fix this problem. Check the effectiveness of the AC in a car you are planning to buy, but don't worry if it isn't adequate – a good Hyundai service centre would be able to fix this quite easily.
Suspension noise
The Hyundai i20 has a relatively light suspension and it tends to get bouncy on undulating surfaces. That said, the car is quite comfortable at city speeds. However, some cars have an issue of the front struts and bushes becoming noisy – rattling and squeaking. This would involve changing the struts or bushes. A suspension job could set you back by about Rs. 8000.
Brake fading, shuddering
The initial batch of Hyundai i20s also had some cars report problems with the brakes. The i20 top-end variant comes with all-round disc brakes, but owners have reported shuddering and squealing noises with the brake. Hyundai replaced several cars brake discs and pads, and seemed to have sorted out the problem with later cars. But check the brakes of the car you are buying and check its service history for any brake work done. Also read: Pros and cons of the Hyundai i20
Overall, picking up a well-maintained Hyundai i20 is a good deal, although good cars don't come cheap. The diesel is fuel efficient and fun to drive on the highway, but a bit of a bother in the city. The petrol is not performance oriented, but more comfort oriented – making for a spacious, family, city hatchback.