Maruti 800 has played a very crucial role in Indian automotive history. It is one of those cars that introduced the concept of a small and affordable family car to Indian families. It was first launched in 1983 and remained in production until 2014. Today, it is considered a classic car, and many owners still have a Maruti 800 in their garage. While most people are familiar with the modern iteration of the Maruti 800, it is the first version, also known as SS80, that holds a special place in the hearts of many.
In a video uploaded by Safari Cars by Anfal on their YouTube channel, the vlogger, who runs the used car dealership, showcases three classic Maruti SS80 cars that are available for sale. The three hatchbacks featured in the video are from the years 1984, 1985, and 1986, respectively. Though all three of them are in good condition, they each possess different characters. Maintaining a classic or vintage car like the Maruti SS80 is a challenging task, leading many owners to modify or customize the exterior and interior.
Also read: 10 DC Design cars & how they look in the REAL world: Maruti Swift to Mahindra XUV500
Out of the three Maruti SS80s in the video, two of them have been modified, while one appears closer to the stock or original version. The white SS80 in the video is a 1984 model, and it resembles the Maruti SS80 standard, which used to come without AC. This particular car features aftermarket alloy wheels and seat covers, which is a common practice for a car of this age.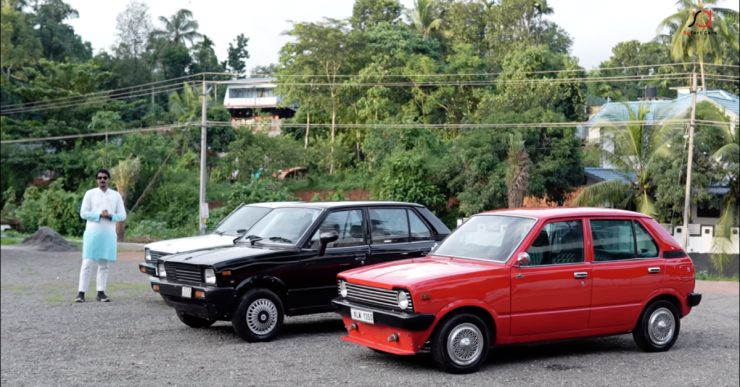 The black SS80 is a 1985 model with a "Deluxe" badge on the front, but it does not appear to be a Deluxe variant as it lacks factory-fitted AC and a company stereo. Some of the features, such as the wheel caps and turn indicators, seem to be from later versions of the SS80. However, the interior and engine bay of this car are well-maintained, and the seller even takes it for a spin to demonstrate its performance.
The third Maruti SS80 in the video is likely the most heavily modified car. Its front-end has been completely altered with an aftermarket grille, and the interior has also been updated. The car's bumper has been redesigned and made from metal, resembling a Volkswagen Golf. While some people buy the Maruti 800 for modification purposes, others prefer to restore it to its original factory finish. Regardless of the purpose, the seller has three Maruti SS80s available for sale. As mentioned above, anyone who is planning to buy a classic car like this should know that it won't be as comfortable as any of the modern cars that we have in the market. Finding parts for restoration for such cars is also going to be a difficult task. If you want a cheap project car, then this could be one. Since it is a classic car, there is no fixed price for the Maruti SS80 in the market. The asking price for each of these SS80 hatchbacks is Rs 2.5 lakh.
Also read: Upcoming 2022 Maruti Suzuki Vitara Brezza rendered