Snapshot: Looking to buy your first car for under 2.5 lakh rupees? Well, that's the kind of money that undercuts the cheapest car in town, the Tata Nano XT Twist. CarToq profiles five used cars that are reliable, have good after sales service and are also easy on the pocket in terms of maintenance. All cars in this CarToq report are chosen from our used car database, and about four years old with under 40,000 kilometers on the odometer. 
2010 Maruti Alto F8D LX
The Maruti Alto F8D was India's largest selling car for many years until its discontinuation in the second half of 2012, when it was replaced by the Alto 800. A solid car with tried and tested mechanicals, the petrol powered Alto F8D is known for its high fuel efficiency, bomb proof reliability and low maintenance costs. Used examples from 2010 that have run about 35,000-40,000 Kms  command about 1.6-1.8 lakh rupees at Delhi. You can't really go wrong with an Alto F8D if you're looking at a reliable and hassle free entry level car.
2010 Chevrolet Spark LT 1.0
A small car that rides like a much bigger car. This, in a nutshell summarizes the Chevrolet Spark 1.0. The Spark is powered by a 1 liter petrol engine that outputs 63 Bhp-90 Nm and that's paired with a 5 speed manual gearbox. The car is also available with the LPG-Petrol dual fuel option. The Spark isn't the most fuel efficient among small hatchbacks and this explains the low sales of the car. Used examples from 2010 that have covered about 40,000 kms can be had for about 2 lakh rupees in Delhi.
2010 Hyundai Santro Xing GL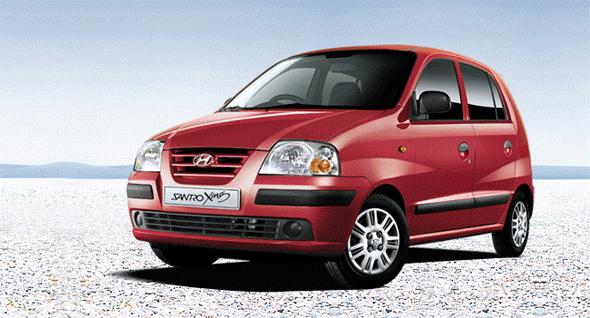 A tall-boy hatchback that continues to motor on in the Indian car market, the Hyundai Santro Xing is much larger than the Alto F8D in terms of space on offer. Apart from offering more space, the Santro Xing comes with a more powerful 1.1 liter petrol engine that outputs 62 Bhp of peak power and 96 Nm of peak torque. The car is available with LPG and petrol engine options. A used example from 2010 with under 40,000 clicks on the clock sells for about 2.1 lakh rupees in Delhi.
 2010 Maruti Alto K10 LXi
The Maruti Alto K10 is a pocket rocket, what with its 1 liter K-Series engine that begs to be revved to unleash 67 horses and 90 Nm of torque. This rev happy 3 cylinder engine, allied to the Alto K10's sub 800 kilogram weight means that the car has one of the best power to weight ratios among entry level hatchbacks. Fuel efficiency is impressive too. The power steering makes light work of city traffic while becoming too light at higher speeds. So, if you're in the market for a fun to drive hatchback that is easy on the pocket, used examples of 2010 Alto K10s are available for about 2.4 lakh rupees in Delhi.
2010 Maruti WagonR LXi 1.1
Maruti's first tall boy offering, the WagonR is a very popular car in both the new and used car markets. The WagonR LXi 1.1, which features a 1.1 liter-4 cylinder petrol engine is a reliable and practical option for city streets. Apart from managing good fuel efficiency figures, the WagonR is also easy on the pocket when it comes to service costs. Bpth LPG and petrol variants of the WagonR are available in the used car market. Expect to fork out about 2.5 lakh rupees for a used, 2010 WagonR with about 40,000 kilometers on the clock. The WagonR's solid mechanicals mean that the hatchback is good for well over a lakh kilometers with little maintenance.
Want to see your photo feature about that exciting road trip published on Cartoq? Share your details here