What are the indicative used car prices of five-year old Toyota cars in India?
Toyota is a brand that commands a premium in the Indian used car market, primarily because it has built a reputation of reliability. Finding a good Toyota brand car, be it the Corolla Altis or Innova, for cheap is a tough task.
We take a look at some of the indicative prices of Toyota branded cars that are about five years old in the Indian market – which means models made in 2007-2008. At that point in time, models such as the Toyota Fortuner and the Toyota Etios and Liva did not exist in the market.
The only cars available in that period were the Toyota Innova and the just launched Toyota Corolla Altis, as well as the older Toyota Corolla.
Used Toyota Innova
The Toyota Innova comes in two engine variants – a 102 bhp 2.5 litre diesel engine, which is a workhorse of an engine, and is responsible for over 95% of the Innova's sales, as well as a 2-litre petrol engine putting out 131 bhp of power. Toyota refreshed the Innova in early 2012 with a facelift, but otherwise no mechanical changes were carried out. Also read; Used Toyota Innova buyers checklist
Prices of used Toyota Innovas
Model 2007-2008: Rs. 7.25 lakh – Rs. 9 lakh
Some of the better models of Innovas we have seen of 2008 vintage go for about Rs. 8.25 lakh – Rs. 8.5 lakh. These vehicles were of the G and V variants and have about 70,000 km on the odometer. For a five-year old Innova that is average running, as most Innovas see heavy usage.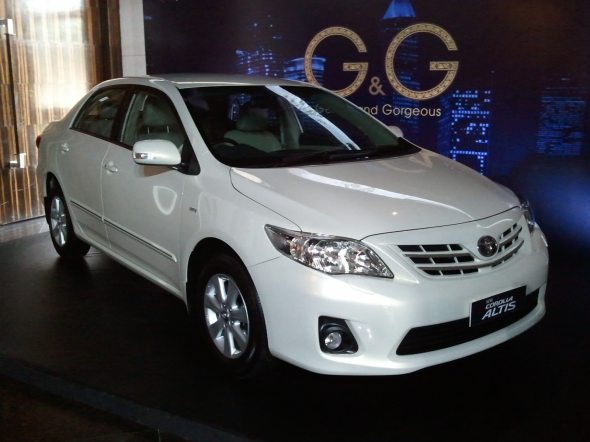 Used Corolla Altis
The Toyota Corolla Altis was launched in 2008 and has good resale value. The diesel Altis was launched nearly a year after the petrol Altis came into the market. The diesel Corolla Altis is not a powerful car, but is great on fuel economy and is a highway cruiser. It has a 1.4 litre diesel engine that puts out only 87 bhp of power, but it has a six-speed manual transmission. The car is known to give over 20 kmpl on the highway. The petrol Altis has a 1.8 litre petrol engine putting out 131 bhp of power. Also read: Used Toyota Corolla buyers checklist
Prices of used Toyota Altis
Model 2008 (petrol): Rs. 6.85 lakh – Rs. 7.5 lakh
Model 2009 (diesel): Rs. 7.5 lakh – Rs. 8 lakh
The petrol Toyota Corolla Altis has slightly lower resale value compared to the diesel model. The diesel Altis came later and there are not too many in the resale market at the moment, compared to the petrol model – which has plenty of listings available. The petrol model is not too fuel efficient and after the fuel price disparity between petrol and diesel became huge, petrol lost favour.