The more resale value your existing car commands, the more money you have to buy your next car. So what is it that will get you the best value for your existing car?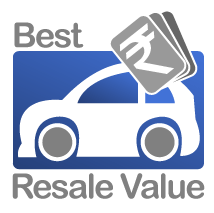 The brand/make of your car: If you have Maruti, you are likely to get a good price for it in the used car market. Ditto for Toyota. Cars made by some manufacturers hold their values better than others. Typically, segment top sellers hold their values well—so if you buy the No. 1 or No.2 selling car in its segment, it will most likely hold its value well.
Click on the links to see the list of cars—by segment—that hold their value best:
5 hatchbacks that have the best resale value across the country
Premium sedans that will fetch the best resale value 
Diesels are worth more in the used car market: Due to large difference in the price of diesel and petrol, diesel cars have come to command a premium over petrol cars. The difference can be quite stark: A Honda Civic (petrol) costs Rs. 5 lakh in the used car market, about Rs. 50,000 more than Maruti Suzuki Swift Dzire!. The price difference between the two (when you buy a new car) is a whopping Rs. 7 lakh. Also read: How to buy a good used sedan under Rs.8 lakh?
The above two are important if you are on the verge of buying a car. But what if you already have a car? And besides, even if you have the right make, you still need to take care of it. Also read: 5 factors that help assess the resale value of cars
Stick with the service schedule: Different cars need to be serviced at different intervals. Make sure you follow the routine. Also, make sure you keep details of each service—service records. These go a long way in establishing you as caring car owner, which helps up the resale value of your car.
Avoid customization: Or at least do not do too much of it. Parts such as wheels—trading alloy wheels for regular ones—do not have any negative impact on the resale value. But anything that involves altering mechanical or electrical parts tends to bring down the value.
Keep your car clean: This goes beyond just washing the exterior. Polishing the car once in a while to keep the paint from fading would help. Also make sure under-body and other such parts are kept rust free. Also read: Do you really need underbody coating and Teflon for your car?  
Avoid accidents: Nothing destroys the resale value more than an accident. This is for two reasons: one, for obvious damage that it can cause to the car; and two, because of the assumption (right or wrong) that the owner is a reckless driver and therefore, would not have cared much for the car. So drive cautiously—not only is it safer but could bring you more cash when you sell your car.
Dress it up: As you get close to selling the car, make sure it looks shining new. Get it cleaned, change the oils and fix any minor issue that might be there. The expense on these will be more than compensated by the increase in resale value of your car.