If you are looking at a first car, one of the best ones to look for is a used Hyundai Santro. The car is a very versatile city car, has a tall-boy design and a good driving position, and is low on maintenance. It is a good alternative to the Maruti Wagon-R and the Hyundai Santro is known to age well.
The Hyundai Santro was first introduced in India in 1998. The first variant looked quite ugly and rodent-like with a 997 cc, four-cylinder petrol engine that put out 55 bhp of power. In 2002, Hyundai upgraded the Santro to the ZipPlus variant that had a 1.1 litre (1086 cc) engine putting out 63 bhp of power. The same engine has seen minor tweaks and continues today in the Santro Xing as well as the i10 as the iRDe petrol engine. The Santro got a major facelift in mid 2003, with the launch of the Santro Xing. This included an all-new front with better looking headlamps, grille, bonnet and bumper and an all-new rear design with new hatch design and new tail-lamps. The Xing is a much more pleasant looking Santro compared to the earlier design. The Santro also came with a 4-speed automatic variant, which was great for the city, but was a fuel guzzler.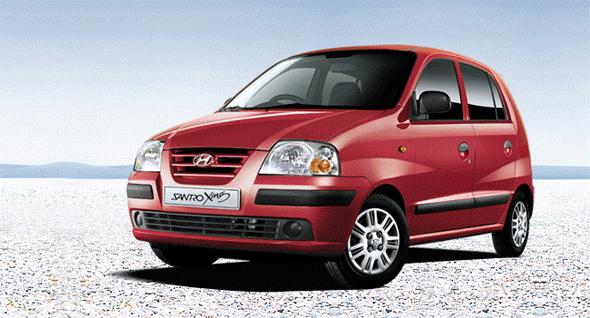 The Santro is a very easy to drive car and has a very slick gearbox and light steering, making it ideally suited for the city. However, ride comfort is not all that great as the rear tends to get quite bouncy at speed and over rough surfaces.
If you are looking for a used Hyundai Santro or Santro Xing, here are indicative prices and things to watch out for. Also read: Buying a used Maruti Wagon-R
Prices of used Hyundai Santro
Model 1999-2000: Rs. 60,000 – Rs. 75,000
Model 2001-2002: Rs. 75,000 – Rs. 1 lakh
Model 2003-2004: Rs. 1.2 lakh – Rs. 1.5 lakh
Model 2005-2006: Rs. 1.5 lakh – Rs. 2 lakh
Model 2007-2008: Rs. 1.75 lakh – Rs. 2.25 lakh
Model 2009-2010: Rs. 2.25 lakh – Rs. 3 lakh
Model 2011-2012: Rs. 2.75 lakh – Rs. 3.5 lakh
(* New Delhi prices)
While the Hyundai Santro is a relatively low-maintenance car, here are some things to watch out for.
Engine sounds
The Hyundai Santro's 1.1 litre engine is a robust and refined unit and can take quite a beating. That said, some engines are likely to have been abused. Listen for a whining sound from the engine. If this is heard, that means it is likely to see some expensive bearing repair. Also check for smoke from the exhaust – a sign that the piston rings are worn and need replacement. Pull out the dipstick and check the engine oil, if it has sludge in it, it is indicative of a blown head gasket allowing coolant to seep in. The earlier 1-litre engine does not have as much power and anyway would be too old for you to pick up. Ignore such cars.
Also check the clutch for signs of wear, although replacing a Santro clutch will cost about Rs. 6000.
Drive shaft noise
Take the car for a short spin and check for any sound from the drive-shafts in front. Usually on full turns if the drive shafts are worn, you will hear a sharp clicking sound from the wheels. It is slightly expensive to replace the drive shafts. Bargain hard if you find this issue. Drive shaft replacement can cost up to Rs. 8000 for a pair.
Suspension noise
The Hyundai Santro has a pretty stiff rear suspension. If the car has been fitted with a CNG kit, check the suspension even more closely, as it would have sagged a little and will bottom out. In the front, check for rattling sounds from the suspension indicative of worn bushes and probably worn tie-rod ends, a common issue in cars that have clocked over 50,000 km.
Steering vibration
Earlier versions of the Santro came without power steering. It's better to avoid these cars unless you are a fan of hard steering. Post 2003, the cars came with electronic power steering units which made the steering really light and easy to use. Check for any play or vibration in the steering column which could be indicative of worn ball joints or a worn steering rack.
Wheel rim condition
If the car has regular steel rims, check the condition of the rims. Santro steel rims were prone to bending. Take the car for a drive and check if wheel alignment and balancing are fine. If you can afford it, the Santro fares a lot better with alloy wheels. Also read: Community speak – Hyundai Santro vs Maruti Wagon-R
The Santro is generally a trouble-free vehicle and easy to own, with just regular service. Spare parts cost is not expensive. These are some of the common issues with a used Hyundai Santro. Share any other experiences you have had with a second-hand Santro with the CarToq community.