Ford's most affordable car, Figo, gets praise and complaints in almost equal measure from the CarToq.com members. The praise is mostly about comfort, mileage, interiors, features and value for money.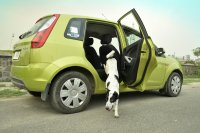 The complaints are mostly about poor ground clearance, poor service and poor space. Poor service seems to be a particularly difficult problem. As far as pick-up is concerned, the reviews are contradictory.
In the end, whether you will like the car or not will depend on what your expectations are from a car that costs only Rs 5.5 lakh.
---


COMFORT

Ankit Jain: Ford Figo has gained the advantage of being a Ford car if you prefer comfort first then this is the best deal. And also most powerful A/C in its class. Impressive factory fitted music system with Bluetooth. And programmable key less entry. Electric boot release. DTE. Speed sensing volume control. You won't get this in any other car in this segment.
MILEAGE AND GROUND CLEARANCE


Bharath Bharadwaj: Its' been an year since I own the car. It's good!!!!! Ground clearance is low but there are beams which protect the chasis and silencer being damaged. It lacks comfort such as no rear power windows even at the top end. Mileage excellent 20kmpl. Service depends on the dealer but till today I am happy with the car!!!!!

EXCELLENT PACKAGE

Tushar Bhatia: Overall the car is excellent package. Rs 5.50 for Zxi model, diesel is the best package.
The dealer said that they will replace shoes for free on your first service. So no issues as such.


PICKUP, MILEAGE
Ashuvinder Singh Lalli: The diesel is really good, the pickup is excellent. Average is also excellent, it is giving above 20 kmpl under normal conditions. If you don't accelerate too much, then it can even cross above 20 kmpl also

VALUE FOR MONEY

Ullas Kumar: I'm not a diesel fan, so i don't own a Figo! But the vehicle is superb. For that kind of money the quality speaks a lot. I'm especially happy with Ford with their sourcing of parts locally (more than 90%) which ensures less cost on spares, service and waiting period. A good success by Ford.
GROUND CLEARANCE


Venkatraman Janarthanan:  Ground clearance is too poooooooor…Too low for Indian roads. Underbody will surely touch bumps/potholes if you have 5 people.
A/C BELT


Lokesh Kumar Singh: Got bad news from an AC repairing mechanic. Told that AC belt makes problem after some days. It gets loose, have to replace it a lot.
PICK UP, SPACE


Nitin Goyal: My cousin has one. 16 kmpl is the average for diesel. Ground clearance is poor. Also pickup is even less than my Logan. And space is also not that good. Again, being the same engine as Ford Fiesta had before, I don't think engine life will be a lot less than Fiat multi-jet. So I think Indica Vista with Fiat multi-jet is a lot better option with more mileage, more space,  better pickup, ride and engine life.
DASHBOARD, BRAKE PAD


Varun Bansal: I have Figo Zxi diesel. After spending Rs 5.15 lakh, the dashboard console is missing in the Zxi model too. Brake pad problem. Manufacturing defect…dealers refused to replace it. Low car height…sometimes it touched the bottom at speed breakers!
SERVICE


Bikash Tripathy: Well the car is lacking height which is a bare minimum requirement in that segment. And Ford, as usual, service sucks.
USB CONNECTION


Linse Thomas: USB function is the problem. And service really sucks when I met with one accident.
HANDLING, CLEARANCE


Gerard Gonsalves: Figo has the best handling without a doubt. It's one of the best drives available for its price. The car comes with pretty good stuff as well. Bluetooth music, ORVMs. But the Ford diesel is gen older than DDIS.
The biggest drawback in FIGO isvery poor ground clearance. Check this out. Load the Figo with 4 passengers, forget 5. Go over some speed breakers. I scraped the bottom on 7 out of 10 times, that too at slow speeds. Bottom line: Ford is any day more expensive to maintain than a Maruti. Also the quality of the steel used in the Figo is different as compared to the Fiesta. Swift steel is very fragile also.
DIESEL, BUILD QUALITY


Roshith Chandran: IMO the diesels are good, no turbo lag. Haven't driven a petrol, but I am told they are a bit lethargic and you have to say the engine doesn't exploit the true potential of the car's dynamics. The build quality is better than the Swift. On road behaviour and the boot space is humongous. Fords dealership experience also does have a lot of catching up to do.