Stunting, as we all know and agree is a dangerous and unlawful activity on public roads and both civilians and law enforcement personnel are bound by strict regulations that prohibit such risky behavior on the roads. But Indians being Indians glance over the severity of these laws and because of this recently a cop from Uttar Pradesh came under the spotlight after posting a video of himself performing daring bike stunts while donning his official uniform.  The incident quickly became viral on the internet and raised a lot of concerns about discipline within the police force and adherence to social media guidelines.
Uttar Pradesh cop posts reel of bike stunts in uniform, suspended #ViralVideos #UPPolice #UttarPradeshnews #UPPoliceInNews #viralnews #viraltoday #Jeevanbadiger pic.twitter.com/bvmstmq0RO

— jeevan (@jeevan13470725) July 30, 2023
In a video that swiftly circulated on social media platforms, Constable Sandeep Kumar Chaubey, posted in Gorakhpur, was seen executing thrilling stunts on a racing bike while clad in his official uniform. Along with showcasing his daredevilry, he added a philosophical dialogue in which he brushed off fears of enemies and death, advocating a focus on fearing God instead. The Instagram reel garnered attention for its audacious display of stunts performed by an on-duty police officer.
Also read: 10 DC Design cars & how they look in the REAL world: Maruti Swift to Mahindra XUV500
After the video went viral the Senior Superintendent of Police (SSP), Dr. Gaurav Grover, acted promptly in response to complaints about the video's circulation. Upon launching an investigation, it was confirmed that Constable Sandeep Kumar Chaubey had indeed uploaded the video, a direct violation of a directive issued by the Uttar Pradesh Police on February 8, 2023. This directive strictly prohibited police personnel from sharing private photos or videos on social media platforms. The breach of discipline demonstrated through the constable's actions led to his immediate suspension.
The case of Constable Sandeep Kumar Chaubey was not an isolated incident, as another officer from Chhattisgarh faced a similar fate. Inspector Surendra Swarnkar of Dongargarh police station in Rajnandgaon found himself suspended after participating in a farewell procession organized by his colleagues. The procession celebrated his transfer to a different location, and a video of the event went viral on the internet, attracting senior officials' attention.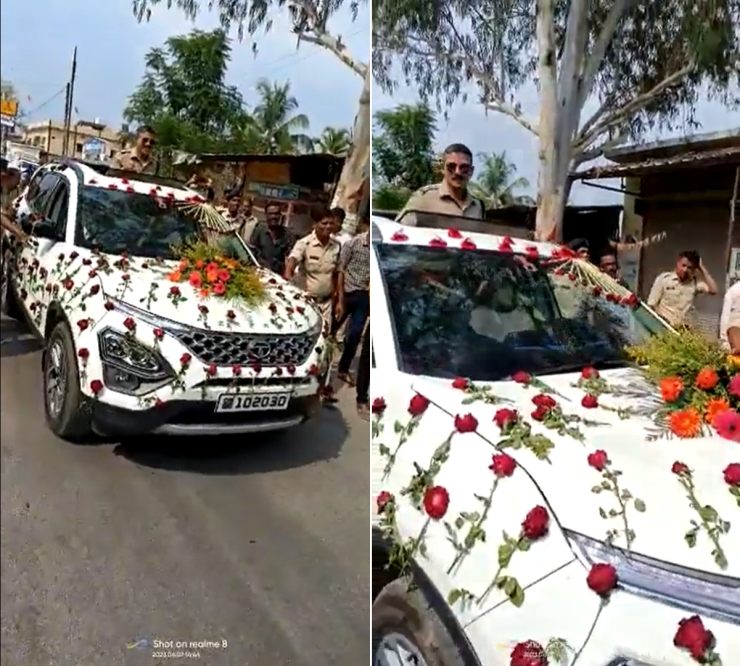 Inspector Surendra Swarnkar's suspension was a direct result of his inappropriate conduct while on duty. Celebrating a transfer by participating in a procession, especially when it involves unsafe practices, is against the principles of discipline and responsibility expected from police officers. Prior to this transfer, Surendra Swarnkar had also faced controversial situations during his tenure in Bilaspur, leading to his relocation. The suspension serves as a stern reminder to all police personnel that adherence to rules and regulations is imperative, regardless of rank or location.
The recent incidents involving police officers in Uttar Pradesh and Chhattisgarh being suspended for their questionable actions underscore the importance of discipline and responsibility within law enforcement. Stunts and reckless behavior on public roads not only endanger the lives of those involved but also undermine public trust in the police force.
Also read: Upcoming 2022 Maruti Suzuki Vitara Brezza rendered