We scroll through social media platforms every day, and sometimes we come across a video or a photograph that brings a smile to our faces. Some of these videos or images go viral, and people even recognize them because of their popularity. There have been several instances like this in the past. Here we have a video that might bring back memories of childhood, at least for some of you who are reading this article. The video that has been shared online shows an old man enjoying the rain while cycling through the road.
View this post on Instagram
Nagma Baig uploaded the video on her Instagram profile, and it has been posted with a caption that says, "I had a tough week with personal health issues and work. I started my day in the morning with stress, getting ready to do household chores. On my way to the office in the morning, the sight of this uncle just changed my perspective towards life. He has no footwear, no phone, no money, but the enthusiasm to life is amazing. He inspired me completely, and now I am sharing it with you all to get inspired. The real fun of life is living happily with whatever we have!"
In the video, the old man can be seen happily riding his bicycle on the road while it is drizzling. It is a perfect example of how people find happiness in the smallest things. The old man can be seen riding the cycle with both hands off the handlebar (which we don't recommend). He can be seen imitating a bird or a plane by just opening his arms wide. It appears that the video was recorded somewhere in Maharashtra. The video was posted some time ago, and it has garnered over 1.63 lakh likes on Instagram. The video has also received 2.3 million views.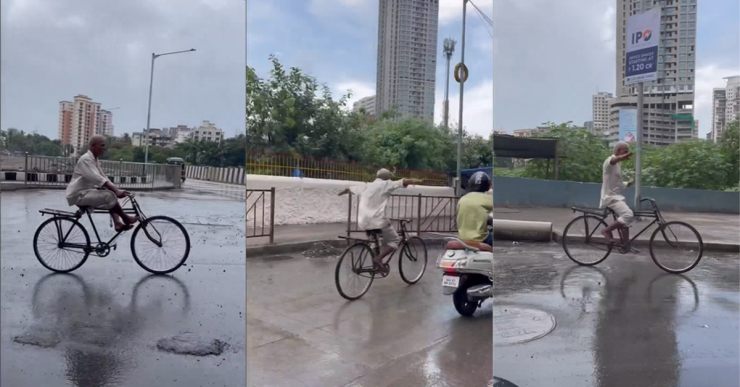 Also read: 10 DC Design cars & how they look in the REAL world: Maruti Swift to Mahindra XUV500
At least some of you who are reading this article must have had fun like this in the rain. As a kid, you might have also ridden a bicycle in the rain with your friends. With the introduction of technology into our lives, the definition of having fun has also changed. This is one of those videos that will bring a smile to your face automatically, and many of you might even miss those days. The comment section of the video is also filled with hundreds of positive comments.
One user said, "At least uncle tutey huey nahi hein hamari tarah xindagi may, vo kush hein apni cycle se, Boeing 747 chalane ke feel letehuey." Others said, "age is just a number we all need to keep alive our inner child and enjoy every second of life," "I think my depression has disappeared now," "Uncle knew how to live life happily." One of them even asked if there is a way to track the details of the old man so that they can help him monetarily. While most of the people were happy to see the video, there were some who were not very happy with his act of riding a cycle with hands off the handlebar on a busy road.
CarToq Shorts: India's First Maruti 800 Restored