Volkswagen recently launched Breeze edition for Vento, adding new features that makes the car an attractive option at that price against other competitors. We picked up the Hyundai Verna diesel base variant (1.4 CRDi), which is priced similar at Rs 8.09 lakh, while the Vento is priced at Rs 8.19 lakh. Which is a better purchase?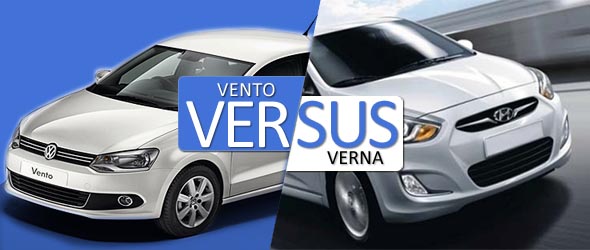 Where Vento beats Verna
Looks, fit and finish
The two cars cater to two completely different tastes. The Fluidic Hyundai Verna has a flowing aerodynamic form with a trapezoidal grille and swept back headlamps. The Verna is proportionate and sporty looking, and one of Hyundai's better designs to date. It has been designed from scratch as a three-box car, unlike the Vento. Also read: Nissan Sunny XE vs Hyundai Verna 1.4 VTVT: Advantage Sunny
The Vento has a more traditional, sober look. It has an angular front with trademark Volkswagen features such as a slim grille, with a large badge, low-set bonnet and a profile that's boxier compared to the Verna. The boot is neatly integrated into the Vento (as the car is based on the smaller Polo hatchback) but the rear looks pretty bland.
Looks are subjective, and many may prefer the sober looks of the Vento to the Hyundai Verna's dynamic curves. We, however, think the Verna has more flair compared to the Vento. Fit and finish in both the cars are in par, but the German saloon has a slight edge for its materials feel more sturdy and gives an impression that it will 'last longer'. Hence, based on looks alone, Verna beats Vento but when it comes to fit and finish, Vento leads a little bit.
Convenience features
The Verna 1.4 diesel does get LED turn indicators on outside mirrors, keyless entry, electrically adjustable ORVMs, power steering with tilt function, Manual Transmission Shift Indicator, 2 DIN MP3 player with aux-in and USB, four speakers with tweeters and audio hand remote. These features are not available in Vento Breeze edition.
Vento Breeze edition comes loaded with Navon satellite navigation system, park distance control and leatherette seat covers in addition to all the 'branded' pillows& mats and rear AC vents. The Verna 1.4 diesel lacks all the above features available in the Vento Breeze edition.
Though the features list is long in Verna, the Vento Breeze edition has leatherette seat covers, park distance control and the rear AC vents that makes it having more 'convenient' feature than Verna.
Engine performance
The 1.6 litre diesel engine of the Vento puts out 103.5 bhp of power and 250 Nm of torque. The 1.4-litre diesel engine of the Verna puts out 88.77 bhp of peak power and 220 Nm of peak torque.  Clearly, the Vento offers the more powerful engine and hence, better drivability. The torque also kicks in at an earlier 1,500 rpm in Vento than in Verna (1,750 rpm), which makes the Vento a better car for city runabout.
Ride quality and handling
The suspension in Vento soaks up bumps quite effectively, with very little filtering into the cabin. On the other hand, in Verna, the suspension is quite settled, slightly on the stiffer side, but tends to get a bit bouncy on uneven patches. Hence, Vento has an edge over Verna in terms of ride quality.
The electronic steering feels light and not too confidence-inspiring beyond 100 kmph in the Vento. The slightly heavier front due to diesel engine, in the Verna makes for better handling, though the electronic power steering doesn't give as much feedback as one would like. Hence, no clear winner here.
Comfort and space
Both the cars are quite equally comfortable for front row occupants, but when it comes to rear, things change. Verna's rear seat is low-set, hence though they are comfortable, the under thigh support is average making it difficult during long journeys.
On the other hand, Vento offers comfortable seats with better thigh support, but the rear middle passenger may find it uncomfortable due to the high transmission tunnel eating up some leg room. When it comes to boot space, Verna has a slight advantage as it gets 465 litres as against, 454 litres offered in Vento.
Where Verna beats Vento
Mileage
The performance of the Verna diesel may not be inspiring, however, the mileage is quite impressive. The 1.4 diesel motor of the Verna has an ARAI-certified mileage of 23.5 kmpl while Vento diesel has an ARAI-certified mileage of 20.54 kmpl.
Service network
Hyundai had 451 dealers in India and 648 authorized service centres across 340 cities while Volkswagen has about 70 dealers in 56 cities. Cost of maintenance and spares are slightly lower with the Hyundai Verna. However, Volkswagen has very good warranty coverage of 2 years and unlimited kilometers, 3-year warranty on paint defects and a 12-year warranty on the body – goes to show the solid build quality of the car.
Service intervals are lower with the Vento, requiring service only once every 15,000 km. If you live in any of the metros both cars will give you peace of mind. However, the better reach and easier availability of parts, works in Hyundai's favor.
Safety features
With regard to safety, both the cars have minimal safety features such as seatbelts, front disc brakes, central locking and immobilizer. While Vento comes with high-mounted third brake light, Verna comes with front fog lamps and clutch lock system. No outright winner here.
Conclusion
With almost same price, the Verna gives you practical features such as music system, while Vento offers 'convenient' features such as leatherette seats and parking sensors.  So, with regard to features, choose the car with more features that you feel is more 'practical' for day-to-day commuting.
But, when it comes to overall package, the Vento diesel Breeze edition with the newly added convenient features and the powerful 1.6-litre engine has a slight edge over the Verna 1.4 diesel.
*Prices mentioned are ex-showroom Delhi