German car manufacturer Volkswagen is all set to launch a small car to be placed a segment below the Polo by 2012. The Volkswagen Up on which the small car will likely be based was first showcased at the 2007 Frankfurt Auto Show.
According to the FinancialExpress (FE), sources close to Volkswagen's small car project have said that the proposed small car would have higher localized sourcing than the Polo. Volkswagen will try to achieve 75% localization of its small car moving up from the current level of 60 -65% (achieved in localizing the Polo hatchback).
It is expected that the small car will come with a price tag of Rs. 3.3 lakh which is Rs. 1 lakh lesser than the Polo's base variant that's comes at Rs. 4.3 lakh (ex-showroom, Delhi). Backed by aggressive pricing Volkswagen's upcoming small car will lock horns with the Maruti Alto, Hyundai Santro and Chevrolet Spark. Sources have further mentioned that Volkswagen will launch more new products in India to increase its presence in the sub-continent. Also read: 2011 Volkswagen Passat caught testing in Pune!
The Up concept was a 4-seater with a rear mounted engine, had flat-folding rear seats and measured 3.45 m in length and 1.63 m in width. Volkswagen showcased the Up concept at the Tokyo Motor Show with front and rear doors hinged at the B Pillar, this concept car measured 3.68 m in length and 2.56 m in width. Other Up concept cars showcased in 2008 and 2009 featured electric motors. Related: Volkswagen Up! in India, price Rs 3 lac!
The production model of the Up will likely be the small car for Indian markets which the German car brand had showcased at the Delhi Auto Expo 2008 as well. On the contrary, reports that had emerged in June 2008 claimed that Volkswagen had confirmed that the small car for India would be entirely developed from scratch.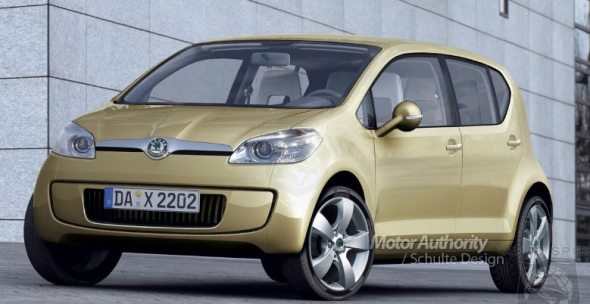 However later in 2009 there were speculations that the small car may not be an all new model, but would be based on the Volkswagen's 'Up' concept. It was also reported that Volkswagen aims to sell 1 lakh units of the small car in India. The small car destined for Indian shores could be powered by a 1.0 litre petrol engine or a 1.1 litre, 3-cylinder petrol engine and a 0.8 litre diesel motor. Also read: New Volkswagen Jetta to roll out mid-2011
Volkswagen will manufacture its small car at the company's Chakan plant in Pune where it's presently manufactures the Polo and Vento models. The Volkswagen Group aims to become the No.1 car maker globally, by 2018 and for this to happen, the German auto giant needs a strong foot hold in emerging car markets like China and India. The launch of the small car will certainly help the company augment sales volumes of its cars as well as its overall market share in Asia.