Day 3 of the Bloggers Drive has us taking the car to Lutyen's Delhi and to a bird sanctuary
Driving on Delhi roads is no fun anymore. The roads are always choked, and streets dug up, thanks to the upcoming Commonwealth Games. Of course, the rain just makes matters worse.
Latest: How many people can you fit into a Figo? (Video)
Day 3: Oscar, our favorite dog, has a good with the Figo
Day 2 of Bloggers Drive: Light-painting of the Ford Figo
Fortunately, the weather today was perfect to take the Figo out for a spin. So we headed to Lutyens' Delhi—one of our favorite driving spots in the city. The roads here are wide and lined with trees and colonial bungalows on either side. We drove around Rashtrapati Bhawan and clicked a few pictures there.
It was time now for us to head to the Ford dealership to swap the diesel Figo for the petrol variant—this marked the beginning of the second leg of the Ford Figo Bloggers Drive. While both variants look the same, the 1.2-liter Duratec petrol motor doesn't feel as peppy or rev-happy as its diesel cousin. But what it lacks in performance, it makes up in its admirable ride quality and excellent torque in low and mid-RPM range. This is a car that will trundle smoothly all day long without your needing to shift gears frequently — a boon in city traffic.
On our way back, we drove in to a bird sanctuary, close to the Delhi-Noida border. We hadn't ever seen or heard about this place before so the lush greenery and the scenic riverfront took us by surprise. The sanctuary sits discreetly on the bank of the Yamuna, and apparently is home to several bird species.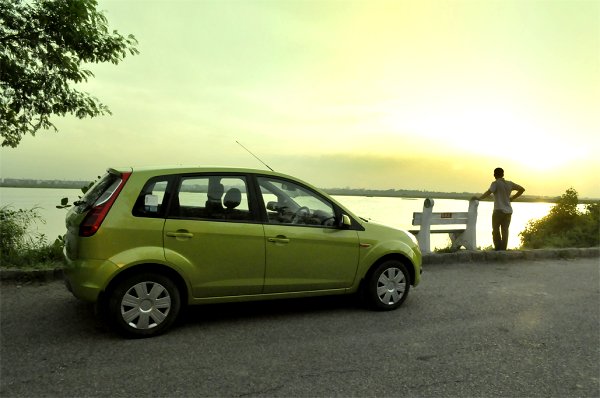 In the distance was the city skyline, dotted with some low-rise buildings. While it wasn't as majestic as Manhattan's, or even Mumbai's, it appeared beautiful with the sunset serving as a lovely backdrop. We hung around for a while admiring the views and shooting pictures. And the Figo — in its lemon green skin—gelled perfectly with the surroundings.
Thanks to the Figo, we discovered a new hideout right in the heart of the city.