Maruti Suzuki Swift has an enormously long waiting period of 8 months for the diesel top-end variant, the ZDI. Total bookings of the Swift have reached a high of 90,000, and Maruti continues to have production problems in its plant. Here's our take on what could be some options for you, and more importantly, what are the delivery periods for those cars.
Of course, the hardcore Swift fans will wait it out to drive home their booked Swift from the dealership. Also, Maruti has started shifting some of the Swift production to its second plant (in Gurgaon), so that should mean more Swifts reaching to dealers from now on.
But with production being less than half of the actual capacity of 900 cars daily, delivery periods for the Swift are not going to reduce in a hurry.
Clearly, some of the Swift buyers will not want to wait and look for other options. What are their options? And more importantly, we called up dealers to find out the delivery periods for alternative options to the Swift.
Ford Figo diesel: Waiting period 3 weeks-5 weeks
The Figo diesel has a great value for money proposition. Figo diesel has an average waiting period of 3 – 5 weeks depending on the variant and color you choose.
The Figo has lot of space, especially for the rear passengers as against the limited leg room in the Swift's rear. The boot space of Figo is also 284 litres, higher than what Swift offers (210 litres) and a relatively high mileage of 20 kmpl.
The Figo has been consistent selling well, at a strong 5,500 units a month, clearly showing the popularity of this car. Read more: Figo diesel vs. Swift diesel
Tata Vista diesel: 3 weeks-4 weeks
Tata Motors launched the refreshed Vista, a week after the Swift's launch last month. The waiting period of the Vista is 3 – 4 weeks depending on the variant and color you choose.
The new Vista has been improved in terms of interiors, fit and finish, better steering feedback, easier clutch action and gear shifts.
The Vista diesel variant in fact costs Rs. 36,000 – 38,000 less than the equivalent Swift diesel variant, making it a more value for money proposition.
When compared to the Swift, the refreshed Vista has more features, roomy and brighter interiors and a decent boot space of 232 litres. The mileage of Vista diesel is 22.9 kmpl in par with the Swift diesel's 22.3 kmpl. Read more: Vista diesel vs. Swift diesel and Vista first drive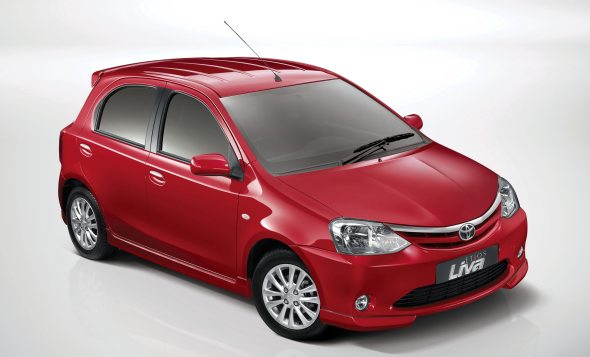 Toyota Liva diesel: Less than 4 weeks
Toyota launched the new Liva diesel today at a price of Rs. 5.54 lakh. Toyota mentioned today during the launch that the Liva diesel has already reached dealerships. Bookings (Rs. 50,000) start today and delivery will be made as soon as possible and we estimate it to be less than four weeks.
The Liva diesel is available only in one variant, the GD but has ABS and EBD as standard features and SRS airbags as optional safety feature. Music system and steering mounted audio controls are absent.
The Liva diesel's modest 68 bhp engine must be sufficient enough to cater the power needs for most hatchback buyers and mileage of 23.6 kmpl is more than what Swift diesel (22.3 kmpl) offers.
The Liva diesel is spacious and can seat three adults in the rear seat. The boot space is pretty decent 251 litres and a higher ground clearance of 170 mm will help you tackle bad roads easily.
Features comparison Swift ZDI vs. Figo Titanium vs. Vista ZX vs. Liva GD
[table id=193 /]