Dealers across India have stopped taking fresh bookings for the new Maruti Suzuki Swift over the past few days. The production of the Swift was affected due to the workers unrest at the company's Manesar plant. At the same time, total bookings for the car have gone up to 90,000 within just two weeks of launch.
Only 700 units of the new Swift has been produced in the past 8 days (August 29th – September 5th) while the actual production should have been 8,400 cars. This has forced many Maruti Suzuki dealers to stop taking fresh bookings for the new Swift because they had to clear a large back log of existing bookings.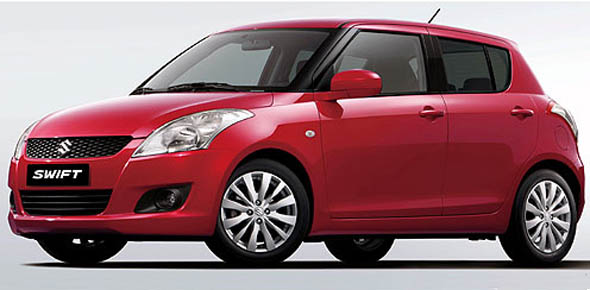 What dealers are saying
Dealers sated that the waiting period has gone up to as much as 8 months for certain variants of the new Swift. CarToq spoke to dealers located in Delhi, Mumbai, Bangalore and Chennai. Here is what they had to say:
A Delhi dealer said that bookings are being accepted but the waiting period for the diesel variants is between 5-8 months while that for the petrol variants is 2-3 months. The dealer stated that the booking amount being charged at present is Rs. 10,000.
A Chennai dealer mentioned that though there are issues with production, they still are accepting fresh bookings. However, they said, the Swift does have a minimum waiting period of four months.
We also spoke to a Bangalore dealer who told us that Swift VDI variant has waiting period of 5-6 months while the ZDI (top-end diesel) has a waiting period of 7-8 months. He added that the waiting period of petrol variants is 3-4 months.
In Mumbai the waiting period for both petrol and diesel variants is between 3-4 months although the dealer denied that there was any delay in delivery due to production issues prevailing.
Maruti's predicament
A top Maruti Suzuki official acknowledged the issues prevailing among dealers due to low production.
"We normally give an anticipated delivery period to customers but as we are facing issues at the Manesar plant over production of the new Swift, dealers must have decided to stop taking fresh requests," Mayank Pareek, managing executive officer (marketing & sales)told the Economic Times.
When Maruti Suzuki launched the new Swift on August 17th, the booking numbers were already as high as 50,000 bookings and estimated waiting period of 3-4 months.
What can prospective buyers do?
It is already a well known fact that out of the total Swift bookings the company's registers, more than 75% are for the diesel variants.
Hence, if production is low for the next couple of weeks, the waiting period of the new Swift diesel will likely go up to 8- 10 months. It is obvious that a significant share of potential Swift buyers may start looking for other diesel hatchbacks such as Ford Figo and Tata Vista. Read our story on how Vista diesel offers better value than Swift.
The upcoming Toyota Liva diesel, which is to be launched on September 9th, also seems to be an attractive package. Read our story here on the diesel proposition.
Though it is too early to gauge, if these production setbacks will actually affect the segment leader it will be interesting to see what Maruti Suzuki will do in order to sustain and appease buyers.