Nissan India recently showcased its entire line up of cars that it will be displaying at the Auto Expo 2012 in New Delhi, from January 5 to 11. Nissan's line up of cars includes those that are already being sold in the Indian market such as the Xtrail, Teana, 370Z sports car, Sunny and Micra. It also showcased two future models, the electric Leaf and the GTR supercar.
Here's more on Nissan's line up for the Auto Expo 2012:
Nissan Leaf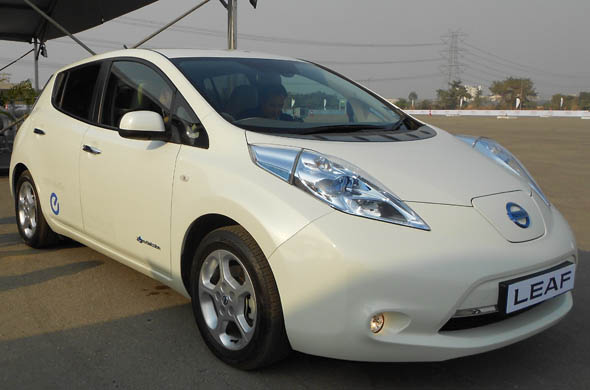 The Nissan Leaf is an all-electric hatchback that is already on sale in some states in the U.S, in the U.K and in Japan. The car is at least five years away from launch in India, due to two issues – the non-availability of charging points (and power) in most parts of the country and the high excise duties and taxes which make it unviable to price an electric car within affordable limits.
We took a short test drive in the Leaf and were quite impressed with this car's on-road manners. In fact, we didn't find it different from driving any regular hatchback, except that it was a completely silent car. It is equipped with plenty of gizmos that make it like any regular hatchback and then some. Since electric motors develop their maximum torque from standstill, the car pulls away cleanly and quite is quite peppy. Of course, the range indicator dips alarmingly if you accelerate too hard, too often. It also has an Eco mode, which moderates the torque and helps in saving valuable battery life.
The Leaf is powered by a 80Kw AC electric motor (codenamed EM61) that makes 108 bhp of power between 2730 and 9800 rpm and 280 Nm of torque from a standing start. This motor is fed by a 360 volt lithium-ion battery pack that has a maximum range of 175 kilometers to a full charge (overnight or 8 hours charging time). It can also recharge upto 80% of its capacity in 30 minutes, for those moments when you run out of charge in the middle of the day.
The car is 4445 mm in length, which makes it about 20 mm longer than the Nissan Sunny, and very roomy on the interiors. It can seat five in comfort and is equipped with a touchscreen infotainment system that also doubles up as the central control for the vehicle's drive modes and the reverse camera system. Boot space is a huge 330 litres, making it bigger than most hatchbacks on the Indian market.
The Leaf is already quite popular in Japan, where it enjoys sops for electric cars, and would do well in India, if it's allowed subsidies. In its current form, if Nissan were to launch it in India, it would cost upward of Rs. 15 lakh, which wouldn't make much sense. Ideally it should cost half as much, and would then be a viable alternative to some premium petrol hatchbacks.
Nissan GT-R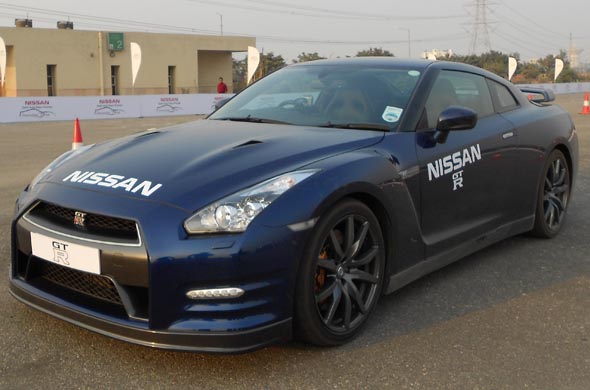 After a drive in the Leaf, we were treated to a spin in the Nissan GT-R, courtesy a professional racer. The GT-R is a massive 3.8-litre, V6, twin-turbo, four-wheel drive supercar, that is much better enjoyed on a racetrack then on an open road. The GT-R is a 2-door coupe, which can seat four, though the rear is rather cramped, and only for emergencies.
The car runs on high-octane fuel and puts out 528 bhp of power at 6,400 rpm and a massive 612 Nm of torque through a six-speed dual-clutch automatic transmission with paddle shifters. It has a selectable electronic stability program with three modes, allowing for various driving styles, for those moments when you want to perform a few stunts with the car. The suspension settings can also be adjusted on-board by the driver and even the transmission can be switched into race mode.
The short drive in the GT-R was exhilarating to say the least, where we were able to feel massive G-forces while drifting or accelerating flat out. It even has a G-force meter to point out just how much force the car is capable of generating.
The GT-R may be launched in India soon, but will be available as an import. We expect it to be priced at about Rs. 85-lakh to Rs. 90 lakh, and targeted at people who enjoy sports cars.
Nissan Teana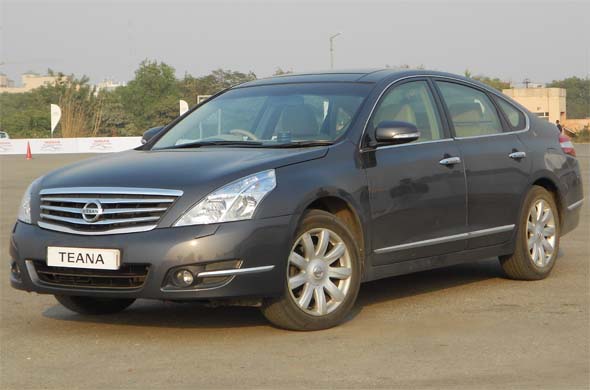 The Nissan Teana has been available in India for a few years now, but has sadly not been selling in large numbers. The car is available in two variants, priced between Rs. 23 lakh and Rs. 26 lakh. It is powered by a 2.5 litre, 6-cylinder petrol engine that's smooth and responsive. It makes 180 bhp of power and 228 Nm of torque, mated to a 6-preset CVT automatic transmission.
The Teana, however, suffers from a lack of dealer spread and some brand image issues. It competes with cars such as the Skoda Superb, Honda Accord, Volkswagen Passat and Toyota Camry.
Nissan Xtrail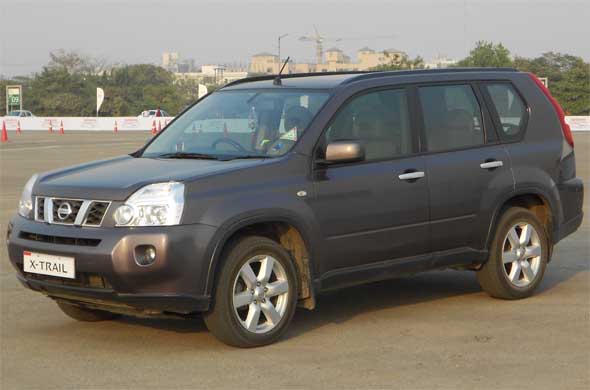 Nissan's SUV, the Xtrail, too has been on sale for a few years and has even gone through two model refreshments. The latest generation Xtrail is powered by a 2-litre diesel engine that puts out 150 bhp of power and 320 Nm of torque.
The Xtrail and Renault's Koleos share plenty of parts, but it's the Xtrail that's the more capable vehicle off-road. It has a selectable four-wheel drive mode and a choice of a six-speed manual transmission or a six-speed automatic. The top-end Xtrail also features a panoramic sun-roof that makes it pretty airy inside.
Nissan Sunny and Micra
Nissan will also showcase its recently launched Sunny diesel at the Expo. The car will begin deliveries to customers from the first week of January. The Sunny diesel, powered by a 1.5-litred diesel engine, is priced between Rs. 7.98 lakh and Rs. 8.78 lakh, ex-showroom Delhi. The Sunny's key selling proposition is the space it offers.
The Sunny petrol and the Nissan Micra petrol and diesel variants will share space with the Sunny diesel at the Nissan stall.
Nissan 370 Z
Another car that will catch a lot of attention at the Nissan stall is the 370Z sports car that's been on sale in India for a while now. The 370Z looks tiny in comparison to the GT-R, but is a car that makes quite a statement. The 370Z is powered by a 3.7 litre petrol engine that puts out 335 bhp of power, with a top-speed of 250 kmph. It's priced at Rs. 55 lakh in India.