CarToq member Yatharth S Chauhan drove the Fluidic Verna recently, and compared it to his driving experience with the Honda City. He compares the two cars in terms of pick-up, handling (including at high speed), driver comfort and other features that enhance the driving experience.
Pickup: The Verna has a strong pick up and thankfully and obviously no jack hammer boost as in the last gen diesel Verna. However it is the City that is smoother and gear ratios seem to be a tad better spaced out. One thing I would like to say is that the petrol Verna seems to be very high on refinement than the last one.
Handling: Handling corners, Hyundai can't hold a candle in front of the City. The City feels planted, poised and very well sticking to the line you may take, though a little body roll is evident. It does hamper the confidence a bit but only a bit so. City sure can do with better tyres, better as in wider tyres. (Also read our road test of the Hyundai Verna)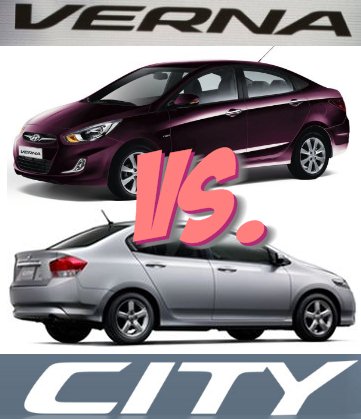 The steering in Verna is not as well weighted and at best I'll call it commuter-ish. All said and done, it is a leap ahead from the last gen Verna. The last one had poor dynamics but this one at best is average.
The grip from the 195 cross sections is good. Just that the feel, the poise is missing. Other good feature I discovered: rear disc brakes on Verna come standard on 1.6 and make the car quite confident in the braking department.
Handling at high speeds: As for Verna, you dive into a corner at a high speed and you will be greeted with lots of body roll. During high speed runs at, say, speeds ranging from 120-150 kmph, it is the City that felt more apt to cruise at that speed. Verna has floppy high-speed ride and driving manners.
Ease of driving: It's the City that feels better owing to dimensions that can be easily calculated from driving seat and its the Verna where one may have to struggle to keep the edges in mind.
Both the cars feel equally roomier though better plastics and nice interiors with a softer feel plastic make the Verna a better place to be in. Also I found the Verna's rear seat to be placed a bit too low, like the 1st gen City and this can be a dear breaker if your car is going to be chauffer-driven.
Driver comfort: Coming to driver's seat, the City is spot on with a good approach angle to the paddles. The Verna is good but it sure can do with better bolstering in the back of the seat. An average driver wouldn't find much of a difference but for those looking for a sporty experience, it's the Honda that will please them. (Read an owner review of the Honda City)
Other driving aids: In the Verna, I found the auto dimming rear mirror with reverse camera a really nice touch and sadly no such gizmo in the Honda. And the fact that City doesn't have a CD player bugs me no end.
I would like to conclude that for a common buyer Verna will do its duty well, and should be good for Hyundai too. But for spirited driving, walk into Honda dealerships.