When it comes to choosing premium SUVs, the choice can get quite daunting, as all of them have unique features and capabilities, and want an equal share of your wallet. The Toyota Fortuner is the current sales leader, selling over 1000 SUVs a month in that segment, but that does not mean it's the default choice, if you are looking for some individuality with your SUV.
Here let's take a look at all the SUVs in the Rs. 20 lakh to Rs. 25 lakh price range to give you an idea of how each of them is quite unique and which would probably help you decide which one to pick.  Also see: Most comfortable SUVs in India 
Toyota Fortuner
Variants: 4×2 MT, 4×2 AT, 4×4 MT
Ex-showroom Price: Rs. 21.37 lakh – Rs. 22.58 lakh
The Toyota Fortuner is the most popular premium SUV, selling over 1,000 vehicles a month. The Fortuner's USP is its high 220 mm ground clearance making it quite capable off-road (especially the 4×4 variant) and on rough roads. Although it is a seven seater, it has good seating comfort for five, with legroom in the last row being a little cramped. It has a decent feature list which includes touch-screen music system, reverse camera, Bluetooth etc.
The reason for its popularity is the Toyota brand image for reliability, which holds strong with the Fortuner as well, as nothing serious ever goes wrong with it, as long as it's regularly serviced. Buy the Fortuner if you want reliability, a butch image and go-anywhere ability. Its weak points are its fuel economy (only about 10 kmpl) and pretty average handling. Also read: Toyota Fortuner road test and review
Ford Endeavour
Variants: 4×2 MT 2.5L, 4×2 AT 3.0L, 4×4 AT 3.0L
Price: Rs. 18.20 lakh – Rs. 21.20 lakh
The Ford Endeavour is your traditional pick-up truck-based SUV, built like a tank, but unfortunately almost drives like one as well. It is the longest of SUVs in that segment, and if size is your thing, it will fit the bill. The Endeavour comes with traditional robust leaf-spring rear suspension and a solid ladder frame pick-up based chassis. This makes it really tough and one that can handle loads of abuse off-road, but on-road drivability is not that great. The high bonnet makes visibility an issue and it lacks a decent feature list for its price (no height adjustable seat, no centre armrest at rear, no climate control etc).
Buy the Ford Endeavour if you are one who wants a tough, yet comfortable enough SUV that can take a beating in the rough, but is convenient to drive in urban conditions (especially the 4×4 automatic variant). Its downside is again fuel economy (less than 10 kmpl) and lack of a feature list worthy of the price tag.  Also watch: Ford Endeavour 4×4 automatic video review
Mahindra Ssangyong Rexton
Variants: RX5 4×4 MT and RX7 AWD AT
Price: Rs. 18.09 lakh – Rs. 20.23 lakh
Want a Mercedes M-Class at nearly one-third the price? Then the Mahindra Ssangyong Rexton is your answer. This SUV is now the No. 2 in its price segment and for good reason. It is based on an old M-Class design, has a five-cylinder diesel engine and transmission derived from Mercedes and is loaded with creature comforts that can pamper you.
Buy the Rexton as a good alternative to the Ford Endeavour, if you don't want that utilitarian feel and want something more posh. The Rexton has a good feature list including automatic climate control, cruise control, sun roof, paddle-shifts etc. The downside of the Rexton is again poor fuel economy on the automatic (10 kmpl) and average handling due to plenty of body roll. Ride quality is good though and it's pretty spacious. Also watch: Mahindra Ssangyong Rexton VIDEO review
Mitsubishi Pajero Sport
Variant: 4×4 2.5L MT
Price: Rs. 22.56 lakh
The Mitsubishi Pajero Sport is one of those true-blue SUVs that will appeal to those who have a sense of adventure. It has good off-road capability and decent on-road manners. It has an average feature list, but includes some unique features that an off-road junkie or adventurer would love like a compass, barometer, altimeter etc. It comes with a super-select 4×4 transmission, with a five-speed manual gearbox.
Buy the Pajero Sport if you want to be different. It's a vehicle that is slightly more capable than the Toyota Fortuner and looks as mean. However, its downside is the poor service network and infrastructure of Mitsubishi in India. Also read: Mitsubishi Pajero Sport road test and review
Honda CR-V
Variants: 4×2 2.0 MT, 4×2 2.0 AT, 4×4 2.4 AT, 4×4 2.4 AT (AVN)
Price: Rs. 19.95 lakh – Rs. 23.85 lakh
The Honda CR-V is the true gentleman's SUV. It is very car-like in its manners and feels much better in the urban jungle rather than out in the rough. It comes with a choice of two petrol engines, a 2-litre and a 2.4 litre, and three automatic variants. The top two variants are all-wheel drive, giving it slightly better capability in rough road conditions such as snow and sandy terrain. The top-end variant is loaded with features including a sun-roof, navigation system, six airbags, power seat etc.
Buy the CR-V as an alternative to a luxury sedan in case you plan to travel over less-than-perfect roads. The CR-V has all the creature comforts of a luxury car with the versatility of an SUV. It would suit those who drive fewer km a month (being a petrol only SUV), but want a luxury SUV. Also watch: New Honda CR-V video review
Hyundai Santa Fe
Variants: 4×2 MT, 4×4 MT, 4×4 AT
Price: Rs. 22.82 lakh – Rs. 25.84 lakh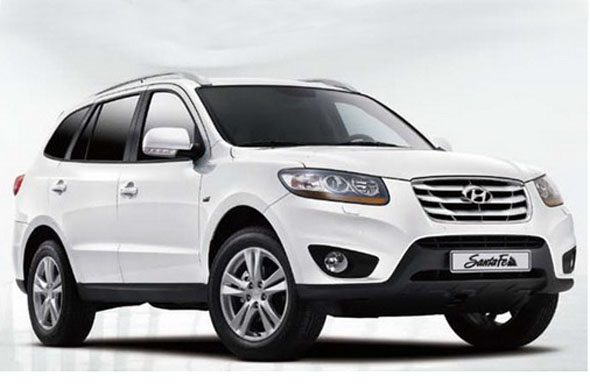 The Hyundai Santa Fe is one of the most powerful SUVs in its class. It comes with seven seats and is decently comfortable as well. However, it lacks the kind of image premium SUVs have and hence isn't selling in great numbers.
Buy the Hyundai Santa Fe, if you just must have the most powerful SUV that your money can buy in this segment. The 2.2 litre diesel puts out 195 bhp of power and is a bragging right in itself. The Santa Fe is loaded with features, from reverse camera, leather upholstery, multiple airbags, dual zone climate control etc. It doesn't look as big or butch as the Toyota Fortuner is a lot more comfortable. Also read: Photos of upcoming fluidic Santa Fe
Chevrolet Captiva
Variants: 2.0 LT and 2.2 AWD LTZ AT
Prices: Rs. 18.75 lakh – Rs. 24.60 lakh
The Chevrolet Captiva is one of the more underrated SUVs in its segment. It has a good feature list, spacious enough for seven and has almost car-like handling. However, it lacks the image that an SUV buyer is looking for in that segment.
Buy the Chevrolet Captiva if you want a comfortable urban SUV with a good diesel engine and automatic transmission (top-end variant), that can also handle some rough terrain like the CR-V. Think of it as the diesel alternative to the Honda CR-V, and it pretty much fits the bill, adding two more seats in the process.
Mitsubishi Outlander
Variant: 2.4 MIVEC
Price: Rs. 20.55 lakh
The Mitsubishi Outlander is a really sporty SUV in the true sense of the word. It has a peppy petrol engine with an intelligent automatic transmission that adapts to your driving style and features paddle shifts as well. It comes with a good feature list including an excellent sound system and now has the ability to seat seven. However, its big failings are poor fuel economy and lack of service infrastructure to support it.
Buy the Mitsubishi Outlander if you want a rally-style SUV that can handle the rough and the smooth. It comes with a user select-able system and is really nice to drive. If you are an enthusiast who isn't really concerned about fuel economy as a primary need, this one would feel quite exclusive.  Also read: 4 most value-for-money SUVs in India
There are more SUVs coming into this price segment now like the new Isuzu MU7 that has just debuted. It is in its initial phases and until there are enough on the road, we will reserve judgement on it. Slightly above the price segment are the likes of the BMW X1 and Audi Q3, and below it you have vehicles like the Skoda Yeti and Mahindra XUV500 vying for buyers attention.
Which kind of SUV would you pick from these? Share your reasons.