Multi-purpose vehicles are what their name suggests – they serve many purposes. By that logic, there should be no other vehicles on the road, considering they meet almost every users criteria. However, it's not always practical to buy an MPV. But sometimes there are at least five compelling reasons to buy one.
CarToq tells you how an MPV can suit your needs and where it can't, and which MPV would be right for you based on your needs.
What an MPV does
A multi-purpose vehicle in the Indian context is also a multi-utility vehicle. It is one that can carry at least seven passengers, is versatile enough to be converted into a luggage carrier, can do long distances in relative comfort and yet be compact enough to squeeze into tight parking spaces. It should have a tight turning radius to negotiate city roads and take turns easily. It should have good legroom for passenger comfort. It should have adequate cargo room with or without sacrificing some passenger space. And yet, it should do all this with car-like ride comfort and driving dynamics.
In India, below the Rs. 15 lakh price range there are at least 10 MPVs and four more upcoming ones that suit various buyer needs. Based on your needs, here is how each MPV would best suit you.
City driving, budget seven seater: Maruti Eeco, Tata Venture (non-metros only)
City driving, occasional seven seater: Maruti Ertiga, Chevrolet Enjoy, Mahindra Quanto
City driving, full-time seven seater: Nissan Evalia, Toyota Innova, Mahindra Xylo, Chevrolet Tavera
Highway driving, full-time seven seater, no luggage: Mahindra Xylo, Chevrolet Tavera
Highway driving, full-time seven seater, luggage space: Toyota Innova, Nissan Evalia, Tata Aria
Given the kind of usage you are looking at, below are more details on each of the MPVs.
Maruti Ertiga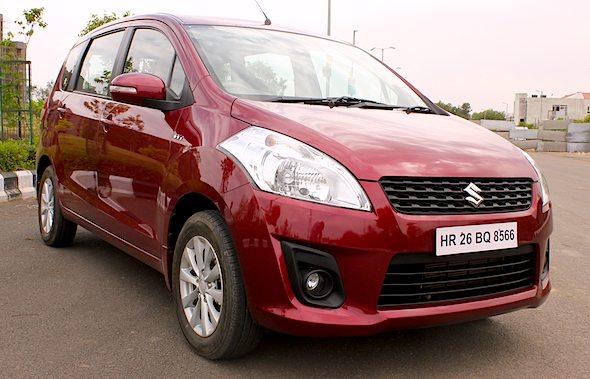 The Maruti Ertiga is ideal for buyers on a budget, who want a value for money MPV that can seat seven. The Ertiga is ideals for city usage because it is based on a stretched hatchback platform and has all the driving dynamics of a car. One should look at the Ertiga ideally as a five seater with two extra seats for occasional use, like a trip to the mall or to movies. The Ertiga is about 4.2 meters in length and has compact dimensions and a tight turning circle. It comes in six variants, three petrol and three diesel. The petrol Ertiga is powered by a 1.4 litre petrol engine that is very refined and peppy. It gives real-world city mileage of about 13 kmpl. If your daily run is less than 30 km a day, but you need to carry 5-6 people at most times, pick the petrol. But if your running is over 50 km a day and you spend long hours behind the wheel, the diesel would be better. One can also look at the Ertiga as a car with plenty of boot space, if you keep the third row folded.
Mahindra Xylo
The Mahindra Xylo is a feature-rich multi-utility vehicle. It comes with comfortable seats for seven people. But with all seats in use, there is hardly any luggage space. The Xylo comes with three engine options, all diesel and pretty fuel efficient. The top-of-the-line Xylo is the E9 variant powered by Mahindra's 2.2 litre Mhawk engine putting out 120 bhp of power and is great for highway runs and for the hills, as it pulls very well. For city use, the E8, E6 variants of the Xylo are good as they are feature rich and come with a 112 bhp, 2.5 litre diesel engine. City mileage for the Xylo is 12 kmpl, while on the highway, the MHawk variant gives 13.5 kmpl. The Xylo is also popular as a cab, with the 95 bhp D2 and D4 variants. The Xylo's high ground clearance also gives it an advantage on bad roads. Xylo is priced between Rs. 7.55 lakh and Rs. 10.55 lakh.
Mahindra Quanto
The Mahindra Quanto is based on the Mahindra Xylo, but is a shortened version, with its length coming in under 4 meters. The Quanto will be powered by a three-cylinder, 1.5-litre diesel engine with a twin-turbo putting out 100 bhp of power. The Quanto is a five-seater, with two jump seats in the boot that make it a seven seater only for short trips, mainly for children. If you are on a tight budget of say Rs. 6.5 lakh for an MPV, this is the ideal city MPV for you. The compact dimensions make it easy to park, while the tall-boy design make it tower over other traffic, giving you good visibility. The Quanto will be available from September 20, 2012 onward.
Toyota Innova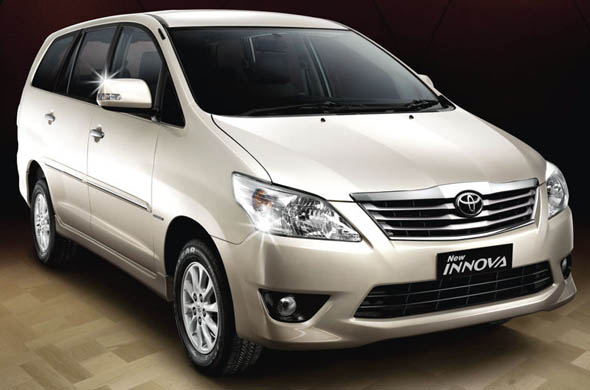 The Toyota Innova is priced at a slight premium to all the other MPVs mentioned here, except the Tata Aria. However, it's also one of the most comfortable to travel in due to its lower center of gravity than the Xylo, and hence lesser body roll. The Innova has adequate legroom in the first two rows while the third is comfortable enough. The Innova's tried and tested 2.5 litre diesel engine puts out 102 bhp of power – not the best, but it is a workhorse that can last many miles. This rock-solid reliability is what makes the Innova the leader in its segment, now being challenged by the Maruti Ertiga. The Innova has enough space for seven and some cargo space for weekend bags. In the city it is OK, but is better suited to longer trips. Prices of the Innova start from Rs. 9.3 lakh up to Rs. 13.8 lakh ex-showroom.
Nissan Evalia
The Nissan Evalia is a spacious MPV that will suit buyers looking for a vehicle that can carry seven people in comfort and has plenty of cargo space. The slab-sided, van-like design ensures that passenger space is utilized to the maximum. It is powered by an 85 bhp, 1.5 litre diesel engine that promises fuel efficiency of over 18 kmpl. The vehicle has plenty of low-end torque that makes it easy to drive in the city, as well as good for the highway as well. The ride quality is really good and it does not bounce around much unlike the Mahindra Xylo. The Nissan Evalia will be available from early October with prices starting at about Rs. 8 lakh. Also read: Nissan Evalia road test and review
Chevrolet Enjoy
Chevrolet's Enjoy is an upcoming MPV that will be launched in end-October. It will cater to private buyers unlike the other Chevrolet MPV, which is the Tavera that has acquired more of a commercial image. The Enjoy is a seven-seater in three rows. It will get a choice of petrol and diesel engines – a 1.4 litre petrol engine putting out 94 bhp of power and a 1.3 litre diesel engine that puts out 90 bhp of power. It is more compact than the Tavera and would be ideally suited for congested city roads, as well as be good for the highway, as it is much lighter than the Tavera. Prices for the Enjoy are likely to start at about Rs. 6.75 lakh. Read more: Chevrolet Enjoy seen testing
Chevrolet Tavera
The Chevrolet Tavera comes in seven, eight, nine and 10 seater formats. It is a complete people-mover. If you are looking for a vehicle that can just stuff in plenty of passengers, this is ideally suited, but better choices exist if you want features. The Tavera lacks features for its price. Prices of the Tavera range from Rs. 7.5 lakh to Rs. 10.4 lakh. The Tavera is powered by a 2-litre engine that puts out 105 bhp of power with a fuel efficiency of about 12 kmpl. Read more: Chevrolet Tavera Neo 3 launch
Maruti Eeco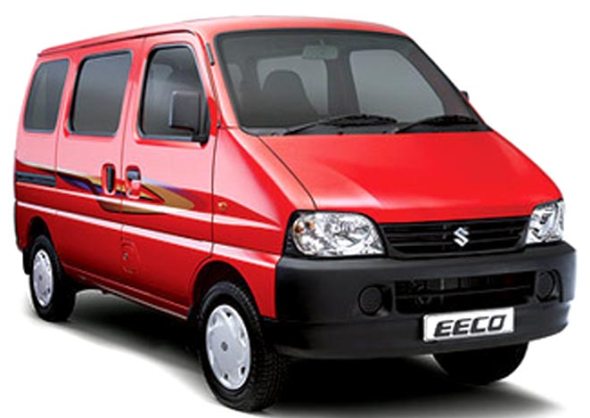 If your budget is not more than Rs. 5 lakh, and yet you want a seven-seater, then the most practical choice would be the Maruti Eeco. It comes with a 1.2 litre petrol engine putting out 80 bhp of power. It is quite basic, lacks power steering but the top-variant comes with air-conditioning and power windows. The vehicle also has a factory-fitted CNG option, which makes it ideal for city use (but the CNG variant is only a 5-seater). Prices for the Eeco start at Rs. 3.2 lakh for the basic model. However, it lacks safety features. Buy it only if all others are out of reach.
Tata Aria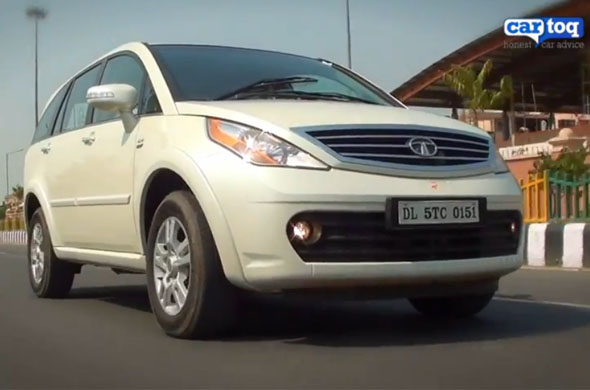 The Tata Aria is an oft-forgotten MPV because it is priced quite a bit higher, and does not sell in large volumes. The Aria is a vehicle that blurs the lines between SUV and MPV – and is a crossover of sorts. It comes in six variants, three of them also offering all-wheel drive capability. It is powered by a 2.2 litre diesel engine that puts out 140 bhp of power. It has plenty of space for passengers and luggage on its inside, along with quite a few storage bins to keep knick knacks. Buy the Aria if you want a vehicle that will be a full-time seven seater and used for long distance travel quite a bit. Prices of the Aria range from Rs. 10.98 lakh to Rs. 15.9 lakh. Also see: Tata Aria video review
Other options include the Tata Venture and the old Maruti Omni, but these are mainly in tier-2 cities. However, the MPV space is getting more exciting with four more MPVs other than the ones listed here likely to enter the Indian market in the next two years. Read more: Upcoming MPVs for India.
Tell us what your needs are and the CarToq community would be happy to help you choose the ideal MPV for you.