When you buy a car how important are features such as in-built GPS navigation or Bluetooth to you? Does this sway the decision in favor of another brand, just because it has an in-built Bluetooth system or a GPS receiver integrated with the audio system?
It may seem cool to own a car in which these systems are already integrated, but with some smart planning you could save a lot of money and customize any car with such aftermarket systems. We're talking of standalone GPS devices which won't void the warranty of your car and they are portable.
In India, some vehicles now offer built-in GPS devices with Bluetooth. Hyundai offers such a device as an option on the i20 Asta variant. Mahindra offers a GPS integrated audio-visual system with Bluetooth on the XUV500 W8 variant and Tata offers it on the Tata Aria Pride.
However, no matter what car you own, be it a Tata Nano, Maruti Wagon-R or a Volkswagen Vento, you could get the convenience of GPS as well as Bluetooth systems for under Rs. 25,000.
CarToq checks out some of the GPS devices with Bluetooth offered in the market that can really spruce up your car and give you plenty of multifunctionality.
MapMyIndia Carpad
One of the most versatile devices in the market is the MapMyIndia CarPad. This is an android-based tablet that has GPS navigation. It also has a 3G phone and Bluetooth, making it a complete multi-media interface. It can even stream live TV, show GPS navigation in 3D, make and receive phone calls and be carried away from the car when not in use. There are two versions of the CarPad, priced between Rs. 19,990 and Rs. 22,990. They include maps for over 4000 cities in India including house-level addresses for about 34 cities.
MapMyIndia ZX250 / VX240
Another interesting device from MapMyIndia is the Navigator ZX250. This has a Bluetooth system too, which acts as a headset for your phone. You can pair your phone with it and make and receive calls, while it can read out GPS directions through your car audio speakers if you connect it with an aux-in cable to your car's music system. This is available for about Rs. 15,990. If you want something cheaper you can also opt for the VX240 that's priced at Rs. 15,400. Both these devices also support a reverse camera (you can buy a reverse camera for Rs. 2000 and integrate it with this device).
MapMyIndia Road Pilot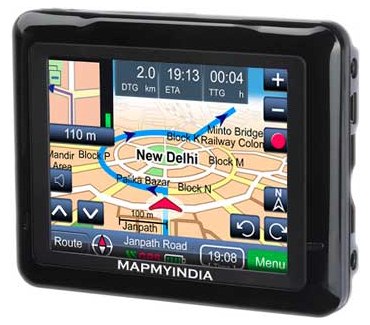 If you want only basic GPS navigation, you can check out MapMyIndia's Road Pilot. It is priced at Rs. 7,900, but has all- India maps in it. It also can playback music and video, with an 8GB SD card support. You could use this device as a music player as well as a GPS device.
SatGuide 5.0 Navi
Another company that offers GPS devices in India is SatGuide. The 5.0 Navi device offered by the company has integrated Bluetooth and video playback. It can store data on an 8GB SD card. The device can pair with your mobile phone and act as a handsfree device while you are in the car. It also has an FM transmitter, which means you don't need to hook it up to your car's music system. Just select and FM station that's free and you can listen to navigation directions or music from the SatGuide Navi on your car's audio system.
The Standard Windscreen Mount Solution!
Think all the above solutions are a bit too expensive for you? Here's a simpler solution. If you own an android phone, Nokia smartphone or an iPhone, you can install maps from either MapMyIndia or SatGuide on them and get simple GPS navigation on your phone. Then install a suction-cup-based windscreen mount on the windscreen for about Rs. 250 and connect your phone to the Aux-in port on your car's audio system. Voila – you've got GPS and handsfree straightaway.
There are other GPS devices from companies such as Garmin and TomTom that are also available in India. In fact, Garmin also uses MapMyIndia maps on some of their devices. Google Maps that come with most android smartphones does not support voice-navigation for India at the moment.
All the GPS devices come with car-chargers and windscreen mounts. These do not require you to alter anything in your car and hence won't affect your car's warranty. But they give you the sheer convenience of GPS and Bluetooth at a fraction of the cost of an integrated system. GPS integrated music systems cost upward of Rs. 30,000.
Also read: Ready reckoner for in-car GPS devices