Social media has become an integral part of our lives, and many people have taken up content creation as a full-time job. While some make good content, a few try to create viral videos by performing dangerous stunts on the road. Recently, one such YouTuber was arrested by cops in Delhi for celebrating his birthday with his friends on top of a moving Audi luxury car on a National Highway. The video has already surfaced online and gone viral.
Also read: Modified Royal Enfield Thunderbird 500 motorcycle from Eimor Customs look beautiful
ये वीडियो गाजियाबाद का बताया जा रहा है

बीच सड़क पर दारू,असलहा, स्टंट और फुल टशन। बाकी तो छोड़िए कार पर लगा भाजपा का झंडा देखिए

अब सत्ताधारी ही कानून की धज्जियां उड़ाकर उसका वीडियो बनाकर मजाक उड़ा रहे हैं pic.twitter.com/zm5WbVrHI4

— Nigar Parveen (@NigarNawab) March 15, 2023
Nigar Parveen uploaded the video on Twitter. In it, we can see a bunch of SUVs, hatchback, and luxury cars including the Audi that belong to the YouTuber named Prince Dixit and his friends. The YouTuber can be seen standing out of the sunroof of an Audi luxury sedan, while his friends are sitting out of the window of the same car. They are doing similar stunts on other moving vehicles on public roads. Soon after the video was uploaded, it went viral, and even authorities came across it.
Delhi Police wrote on their Twitter page, "Cognizance of the matter has been taken. We are inquiring into it to identify the offenders & to get the details of the time of incident. Appropriate legal action shall be taken against the offenders. DM us to identify the offenders. Your anonymity shall be maintained." It is quite clear from the video that the YouTuber was trying to create a new video for his birthday, for publicity on social media platforms. Other road users can be seen in the video too.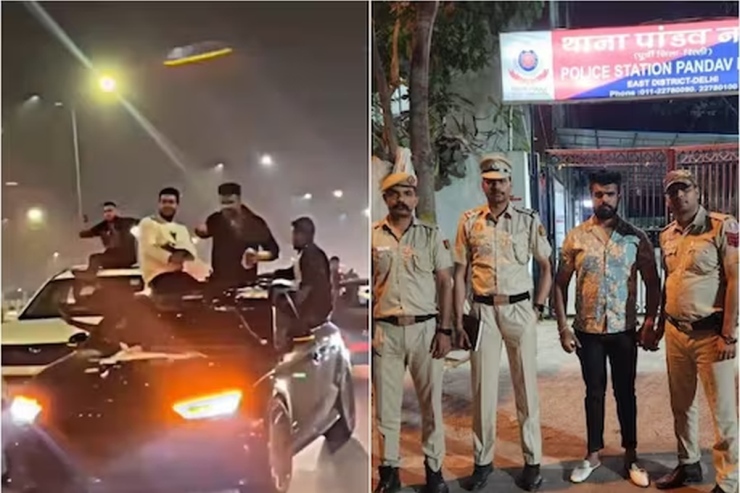 The YouTuber and his friends were performing these stunts on public roads without caring about others on the road. The cops managed to track the details and identity of the person performing stunts in the video and detained him for violating traffic rules in the national capital. After getting arrested, Prince told the police during the interrogation that the video, which has now gone viral, was recorded last year on November 16, on his birthday, on the way to Shakarpur from NH24.
The police are currently on the lookout for Prince Dixit's friends who were also involved in the stunt. It has been mentioned several times on our website that performing stunts on public roads is a serious offence. Public roads and highways are used by everyone to travel from one place to another. Performing stunts on such roads puts your own life and the lives of other road users in danger.
We have come across several incidents like this from the neighbouring state Uttar Pradesh. Here a social media influencer was fined Rs 70,000 for creating a reel while sitting on the bonnet of a moving car. Similarly, cops had also fined two cars and a bike recently who were performing similar stunts on a public road during the occasion of Holi festival.  It is very easy to lose control over the vehicle while performing such stunts, which could lead to an accident. There are also possibilities that your stunts might distract other road users and cause them to have an accident.
Also read: BSA Motorcycles unveil Gold Star 650: Will Rival Royal Enfield 650 Twins