There is hardly anyone who doesn't like gifts. Lately we have come across several videos where people are gifting cars and bikes to their siblings, spouse or parents. Here we have a video where a YouTuber surprised his father with a brand new Mahindra Scorpio N SUV. In this video, YouTuber explains why is he gifting his father a brand new car and shows how his father reacted to the same.
The video has been uploaded by Love Babbar on their YouTube channel. The YouTuber talks why did he plan this surprise. He mentions that he came from a very humble background and growing up his father had a Tata Sumo which he used to drive for a living. His father has done several jobs for a living. Tata Sumo was used as a commercial vehicle and after 10 years of use, the Sumo had to be scrapped. After that vlogger asked his father about buying a new car but, he kept on avoiding the question and asked vlogger to buy a house first.
Also read: Next-gen Mahindra Scorpio SUV spotted testing again in India ahead of launch (Video)
In a conversation his father did tell him that Mahindra Scorpio is his dream car but never asked for it because it is an expensive purchase. YouTuber knew about this and he started working towards the same. When Mahindra launched the Scorpio N in the market, vlogger went ahead and made a booking for the same. He did not inform his father about the same but his sister and mother knew about the surprise. When the date of delivery for his new Scorpio N was near, he went to the dealership and completed all the paperwork.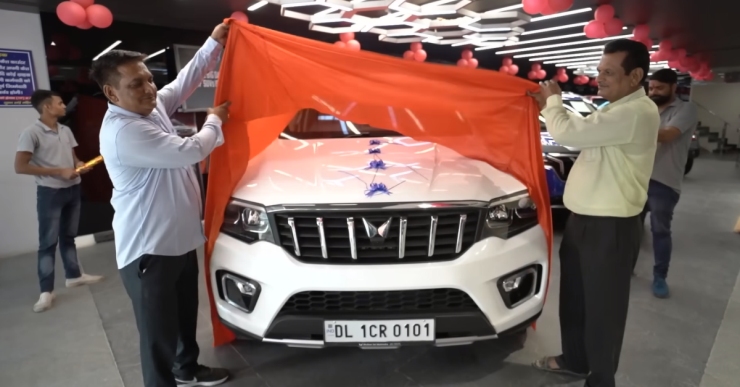 His friend accompanied him to the dealership. When the SUV was ready for delivery, he went back home and asked his mother, father and sister to come with him to the temple. His father was completely unaware of it. They soon drove to the dealership and it was only at this point, he came to know about the surprise. The son surprised his father with the Scorpio N and the happiness on the face of the vlogger was clearly visible.
YouTuber mentioned earlier in the video that he is not expecting his father to show how much he is surprised but to his surprise, he saw his father smile after seeing the present. They then unveiled the car and the whole family posed for pictures with the car. His father drove the car out of the dealership and the YouTuber drove it home. The video does not mention whether the vlogger bought the petrol or diesel variant of Mahindra Scorpio N. The SUV is available with a 2.2 litre turbocharged diesel engine which is available with a 6-speed manual and a 6-speed automatic transmission. The SUV is also available with a 2.0 litre Stallion turbocharged petrol engine. This engine is also available with a 6-speed manual and a 6-speed automatic transmission. The diesel engine option also gets 4×4 as an option. Price for Mahindra Scorpio N starts at Rs 12.74 lakh, ex-showroom and goes up to Rs 24.05 lakh, ex-showroom.
Also read: Modified Royal Enfield Thunderbird 500 motorcycle from Eimor Customs look beautiful