The Indian market will soon be flooded with SUVs with different sizes and from different brands. While SUVs like Renault Duster and Ford EcoSport are scheduled for a launch in the next six months in Indian market, CarToq takes you through a list of hot SUVs which will join the party soon.
Chevrolet Trax
The Trax is to GM as what EcoSport is to Ford. GM is currently developing this 5-seater compact SUV to sell in 140 car markets across the globe and India could be one among them.
The Trax is essentially a badge-engineered Opel Mokka which the company plans to sell in European markets starting from November this year. The Trax has typical GM's bowtie grille, sharp-looking headlamps and funky styling.
The Trax has a length of 4.2 m and a wheelbase of 2.55 m making it stand between the Renault Duster and Ford EcoSport with regard to exterior dimensions. Due to its short wheelbase, expect the Trax to feature five seats just like its potential rivals.
Expect the Trax to have a sub- Rs. 10 lakh price range and may be launched next year. But before selling it in India, the company will have to give it a new name because, Force Motors has registered this name for its Tempo Trax utility vehicle. Also read: Chevrolet Trax
ICML Haval H5
ICML (International Cars & Motors Limited), the little known domestic player which sells Rhino MPV is planning to launch a 5-seater compact SUV based on the Chinese brand Haval's H5 model. Couple of months ago, the H5 test mule was caught on Indian roads hinting that the launch is not far away.
The H5 has car like front with headlamps and grille design mildly resembling the new Maruti Swift. The H5 is about the size of a Skoda Yeti and is a five seater as well with decent luggage space. The upcoming ICML SUV may be powered by a 2-litre CR (Common Rail) engine that puts out 120 bhp of power and 285 Nm of torque as found in the test mule.
Like the Chevrolet Trax, the ICML's version of the Haval H5 may hit Indian shores in 2013 and will likely have a sub-Rs. 10 lakh price range and could challenge the Renault Duster and Ford Ecosport.  Also read: Haval H5
Chevrolet Trailblazer
Chevrolet may launch the Trailblazer 7-seater premium SUV in India. The Trailblazer concept was first showcased at the 2011 Dubai Auto Show and the production version is expected to first hit the Thailand market and at a later period in India.
The Trailblazer concept has macho looks with Chevrolet's bold front grille design,  dual projector headlamps and LED fog lamps. The Trailblazer has taillamp cluster with LED lights that give it an upmarket feel. It is yet to be seen as how much of the concept styling will go into production version.
The Trailblazer is expected to be powered by a 2.8-litre turbo diesel motor which puts out 180 Bhp of power making it more powerful than the Fortuner and Endeavour purely based on engine power.
The Trailblazer may have host of features such as dual-zone AC, digital climate control system, touch screen with GPS navigation, DVD drive, Bluetooth support, USB and Aux-in ports.
Expect the Trailblazer to be priced at around Rs. 20 lakh and may hit our market in 2013 or later. However, it will be challenging for GM India to position the Captiva and the Trailblazer side by side. Also read: Chevrolet Trailblazer
Jeep Cherokee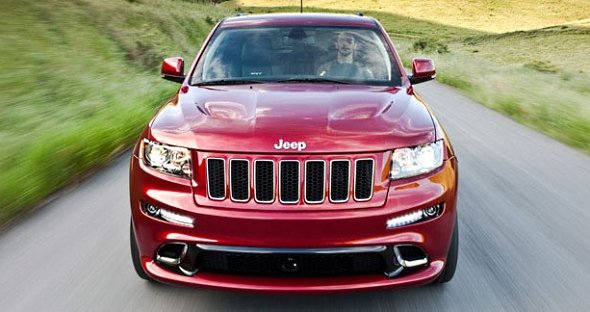 Fiat is planning to launch the Jeep Cherokee model in India. The Cherokee may be assembled locally in order to keep its production cost in check. If this happens, the Cherokee may be within reach of many potential buyers in India.
The Grand Cherokee has a typical 7-slat Jeep grille. The large wheel arches and high ground clearance makes it off-road ready. The interior of the Cherokee has premium quality plastics and precise fit and finish and will likely be better than its rivals.
The India-bound Grand Cherokee to be powered by a 3-litre, V6 CRD diesel engine that puts out an impressive 237 bhp of power and hits a top speed of 203 Kmph. To tackle the off-road duties, the Cherokee will have a Qudra-Trac II 4×4 system.
The Cherokee may be equipped with safety features such as eight airbags, ABS, all-four disc brakes, Electronic Stability Control (ESC), Enhanced Accident Response System and Traction Control.
The Cherokee may have a price tag of about Rs. 40 lakh and may hit Indian market in the next couple of years. Also read: Jeep Cherokee